PLEASE take me back to St Petersburg!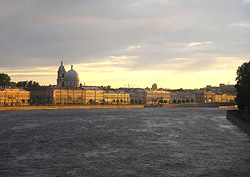 I think the first thing I really noticed about St. Petersburg was how beautiful it is.! I'd already spent some time studying in Moscow, which is a fantastic city, but I wanted to experience something a bit different, and friends had recommend that I continue my Russian studies in St. Petersburg.
The school was a perfect choice, since it's so centrally located in the old part of the city, and as expected had all the facilities I needed, internet, somewhere to relax and have a coffee when the Russian grammar got a bit too much!
They call it the 'Venice of the north' because of the many canals that go through the city centre, but for me the most impressive thing about St. Petersburg is the architecture.
The Hermitage, (picture the scene from the Bond film where Pierce Brosnan storms in to the square in a tank via a huge archway!) is perhaps the most amazing building I've ever been in. It has room upon room upon room of art, jewels, and sculptures etc. It's somewhere to really loose yourself.
St. Petersburg has become a really trendy city for nightlife and restaurants and the staff at the school were like my personal advisors when it came to choosing where to go at night, though the school themselves organise quite a lot of activities if you don't feel like exploring on your own. The wine tasting was a particular favourite of mine, meeting Russian students and getting to try the local produce. Russian wine is actually very nice, I was pleasantly surprised!
I only spent 3 weeks in St. Petersburg, but I still got to see a lot of what the city has to offer, and it's really worth venturing further a field to places like Peterhoff – Peter the Great's summer palace on the gulf of Finland, and around 1 hour from the city centre (the school organise excursions if you're nervous about dealing with Russian public transport! But you shouldn't be! Have a go, and practise your Russian – I did!).
For me St. Petersburg has a fairytale feel to it, taking you back to the grandeur and riches of the 1700's, it's really easy to get carried away in your own little world. I loved every minute of it and will definitely be returning some time soon!
C?????????? ????!!
Janine (UK)