Fiesta in Puerto de La Cruz, Tenerife!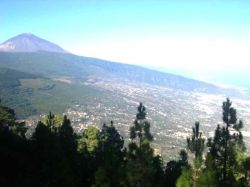 I love Puerto de La Cruz…the landscape, the beaches, the history, the culture, the people, the festivals…and of course the nightlife! El Puerto, as we, the chicharreros, or people from Tenerife call it, is one of the best places to visit and to go out in Tenerife. There are lot of different places to party and things to do, so you're certain to have a really great night!
El Puerto de La Cruz is located in the beautiful La Orotava Valley, which has one of the best views of El Teide, the volcano on the north of the island of Tenerife. It's very famous for tourism, but at the same time retains its Canarian culture!
For example, the famous hip hop band Public Enemy has recently performed in Tenerife its only concert in Spain!
It's always good to plan your night out, but in El Puerto, you don't really have to, because there is so much going on during the day and night that you hardly miss the chance to have fun.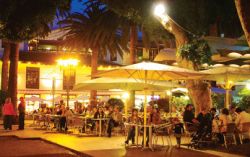 During the day you can go to Plaza del Charco – there is always live music going on. It is the perfect place to relax, have some food and a few drinks. Here you can find the Hannen Tab, a pub with a big terrace overlooking the docks and the main square where you can listen pop and commercial music. It's also a restaurant, very famous for grilled meat
In Plaza del Charco you can also find Color Café, a pub that's just a little bit posh, but really nice, with a relaxed atmosphere. They specialize in cocktails, like the famous mojito. The decor is great and the music you can listen to here is ethnic music and similar, so this is the perfect place to chill out!
Near Plaza del Charco there is also a good bar for shots called Pakaloko, with pop and commercial music, a good place for getting the party started!
Another area with good bars is Iriarte Street. Here you can find for example TFN, a typical Canary Island house where you can play pool, table football and watch sports in wide screen. Another place very similar to this one is El Limbo, a good restaurant during the day with a big terrace, very busy in the summer nights.
Also in Iriarte Street you can find the bar called Pequeño Buda, with an exotic but friendly atmosphere, and Azúcar, the perfect place to dance Cuban music!
In Avenida del Generalísimo or simply Avenida, you can find Hannen Studio, a good pub with great music and fun! In la Avenida you can also find the bar called Caipirinha, as it name suggests it is really good to have the famous Brazilian drink and if you are brave enough (or drunk enough!) you can sing karaoke!
One of my favourites places is Ébano – they play Spanish music, pop and commercial music. In summer is very busy, but you always have a good time! Visit it and you will discover why is one of my favourite places!
If you like something different, you can go to La Gruta, in Calle de la Hoya; they have rock, pop and Spanish music, to Sala FM, the main venue for metal and rock bands from the North of Tenerife, or to Xit, where you can listen and dance hip hop, r'n'b, house and Latin music.
If you are still feeling like party you can go to Vampi's, a big disco with gothic style where you can dance house until very late, because it's an after-hours club, and chat with good looking girls and boys!
My route for this summer is: Limbo, TFN, Ébano or Hannen and then Vampi's! See you there? Hope so!
Jorge