"If you spot the frog in Salamanca…"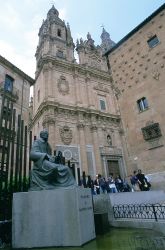 'When you get to Salamanca, don't forget to visit the university and look for the frog', said my friend. This was how I ended up standing in front of the beautiful university façade for 30 minutes…looking for the Frog! In the end I found it, but it was not easy! I don't want to give it all away and tell you where is it located – that's something that you HAVE to do for yourself when you visit this amazing golden city!
I spent a wonderful week in Salamanca  studying Spanish in a fabulous school! I chose Salamanca because a friend of mine had been there for his Erasmus year and he was so incredibly enthusiastic about the city. My first view of Salamanca was from the coach. We drove out of a grey cloud and Salamanca was there, shining gold (resplendendo de oro) and with sun rays falling across the old houses!!!
After the classes, during the afternoons, I loved to walk around and lose myself in the small streets of the city centre. I enjoyed every single building! The whole city is a jewel of architecture! My favourites were: "la casa de la conchas" (House of Shells), "Plaza Mayor" (the main square), the "Patio de la escuela minore" (Patio of the Minor School) and to look at the Cathedral from the Roman Bridge!
Spending time in Salamanca is not just about studying or having a normal kind of holiday. Salamanca is so full of history and legends (for example – the frog story) and you can discover new things, pretty corners and nice cafes every day just walking across the city!
One fine day one of the school teachers showed us a funny thing…
The new cathedral façade (the Gothic one) was recently restored and one the craftsmen decided to leave a signature of his work behind! If you look carefully enough, then you can see, in the middle of a small sculpture of one of the legendary characters, an astronaut!!?? The craftsman just decided to leave a clear sign of his work, but so subtly and so hidden! The sculpture is so well made and if someone doesn't point it out to you, it's impossible discover it!
I'm planning to visit the city again, because I really enjoyed my time there and I think I'm gonna book some more Spanish classes in Salamanca too! It's so good to meet other students and also so many locals who can show you around the city and explain its strange and wonderful secrets!
Laura