My time in Marvellous Madrid!!!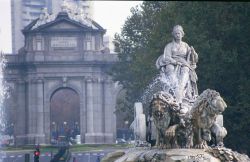 Honestly? Okay, as a dedicated Heat magazine  reader, my immediate thought when I planned my course in Madrid was… I wonder if I'll bump into Posh  and Becks. I never did get to meet them, but fortunately I did find that there is sooo much more to Madrid than shopping (Posh) and football (Becks)!
If you love art you will go crazy in the Prado. If you are a foodie you will be in manchego and jamon paradise. If you love history you can trek museums 'til you drop. But for me, one of my biggest raves is the nightlife – absolutely incredible. With the largest number of bars per capita of any European city, it has to be among the best in the world! In fact, I found that one of the biggest problems with going out in Madrid was deciding where to start! Fortunately, I got on wonderfully with the other students that I shared my apartment with, one of whom had already been in Madrid 3 months and had managed to put together a shortlist of the most fabulous places in Madrid!
We had so many fantastic nights out. If you feel like glamming it up then you should definitely try Chicote on the Gran Via, it's great, really atmospheric, full of lively chatter – apparently Ernest Hemmingway used to drink here – definitely a must-do! It's a really popular place so I would recommend going to Chicote early and heading to other places later on … by which I mean between 1am and 6am!
Honestly, the nightlife in Madrid lives up to its reputation, people stay out until at least 5am, and if you are feeling super-energetic you can even go to 'after-clubs' which are open from 5 until 11am!!! And strangely, for me, one of the most profound memories I have of going out in Madrid is my journey home. I so have many fond flashbacks of strolling home from El Sol at dawn, just as the sun was rising. At that time of day Madrid is as peaceful as you'll ever find it, totally deserted apart from the street cleaners washing down the streets, the cool water from their hose pipes splashing over my grubby flip flops, the amazing smell of the first batches of freshly baked bread and napolitanas wafting from the city bollerias, the clear blue dawn skies over the magificent buildings on Gran Via… my memories of Madrid are absolutely magical.
Studying in Spain's capital city was something I will never forget. Every day was an exciting experience, from the hustle bustle of Madrid business people getting to work in the mornings, to the sleepy siestas and the midday heat. But above all, I will never forget the friends I made when I was there. I met fascinating people from all over the world on my Spanish course, it was an amazing opportunity to find out not just about life in Spain, but life in Germany, Russia, Japan, Italy…. the list goes on and on.
The people that I shared my apartment with will be friends for life; we have so many wonderful shared memories, not least of nights out and practicing our Spanish on anyone that would listen! I encourage EVERYONE to do this at least once. You will learn a huge amount of Spanish, but (and here comes the preachy bit), you will also learn so much about yourself, and leave a much more confident and worldly a person than when you arrived. My study abroad program in Madrid was one of the most incredible times of my life… even if I didn't bump into Posh and Becks!!! 😉
Zoey