Do not underestimate Santiago de Compostela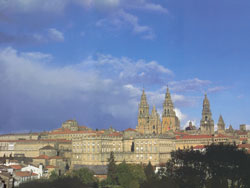 Barcelona and Madrid are the most visited cities in Spain, but there are many more amazing places this fascinating country has to offer. One of those is undoubtedly Santiago de Compostela!
In this blog post I would like to explain what makes this spectacular city in the Spanish region of Galicia so special… and why it is absolutely worth taking your next language course abroad in Santiago de Compostela!
A city soaked in history and culture
For those interested in a city rich in culture and history Santiago de Compostela is definitely a must-see! As the capital city of Galicia, the Celts, the Romans and Germanic peoples populated the city over the years. Even today, the present townscape mirrors the historic past of Santiago de Compostela.
The Cathedral of Santiago de Compostela (La Catedral de Santiago de Compostela) is the town's most famous landmark and the final destination of the famous Way of St. James (Camino de Santiago). It was constructed in the 9th century and is dedicated to St. James whose grave is believed to be situated under the cathedral. Not only can you view the interior of the cathedral, but you can also attend a traditional ceremony called Botafumeiro. This is a special ceremony for purifying the pilgrims. A big vessel is used to burn incense, which is then swung through the whole cathedral on a long rope. Absolutely worth seeing, even for those who don't make a pilgrimage!
It's not just the cathedral where you can admire the historic and cultural heritage of this special Spanish location. The entire historic old town is of great architectural value. You will quickly notice that the streets themselves are also remarkable. Apart from the cathedral, there are many more lovely churches and monasteries in Santiago de Compostela. These include the Monastery and Church of San Martiño Pinario (Monasterio e Iglesia de San Martiño Pinario) and the Church of Santa Susana (Iglesia de Santa Susana).
Santiago's squares and museums
The city also has some wonderful squares to offer, such as the Plaza del Obradoiro, where you will find many beautiful buildings including the cathedral and the town hall. The Plaza de Platerías is another beautiful public space, famous for its appealing fountain. Go and spot the water flowing out of stone sculptures in the shape of horse heads!
If you love museum visits and like to get to know more about the history and culture of the whole region of Galicia and its inhabitants, then you should definitely add a visit of the Museo do Pobo Galego (Museum of the Galician People) to your to-do-list! This museum will provide an insight into traditional professions, clothing, architecture and much more! The museum's name shows that the Galician language Galego is still widespread, which makes the locals quite proud. If you take a Spanish course in Santiago de Compostela you will not only improve your Spanish, but you can also surprise your friends and family with some Galician words when you head back home. That's if you ever want to leave!
Peace and relaxation in the middle of the city
If you also want to relax during your visit to the city there are numerous opportunities in Santiago de Compostela. An excellent place to relax is El Parque de la Alameda. There you can go for a walk, have a picnic, drink from one of the drinking fountains, or simply rest on one of the many benches. The most popular bench is El banco de los enamorados (The bench for those in love). It forms the shape of a semicircle and is made of granite. From here you will have an incredible view of the cathedral! If you think that one park is not enough there are many more to visit: El Parque de Bonaval and El Parque de Belvís, to name just a couple. Both parks offer a wonderful panoramic view of the city!
A valuable alternative to the Mediterranean coast
If you are staying in Santiago de Compostela for a longer period of time I recommend a day trip to the sea. The Atlantic coast is just an hour's drive away and is a great change from the Mediterranean. The beaches are fantastic and widely unspoilt by mass tourism, which is why you will be delighted by the natural beauty of the Galician Atlantic coast. If you prefer not to drive that far but still want to relax by the water the river Tambre, which is about 20 minutes from Santiago de Compostela, is the ideal alternative. Its idyllic banks are a real oasis of peace.
Unrivalled regional cuisine
The region's typical and delicious food must not be forgotten! Should you become hungry whilst visiting the city feel free to follow my advice. I'll introduce you to the special features of the regional cuisine and show you what you should definitely try.
First of all, I should mention the old town market Mercado de Abastos. Daily from Monday to Saturday, fresh regional food is sold here, such as fish – brought to the market directly from the sea! Additionally, you can eat at the restaurant Abastos 2.0 which is located within small houses next to the market. The meals that are offered there naturally contain fresh ingredients from the market. This means that the menu changes every day as it depends on what the market offers.
In general the regional cuisine is characterised by fish & seafood, veal & pork and sausage products (such as the famous chorizo). You should also try the regional cheese. The most popular one, made of cow's milk, is probably the queixo tetilla. A traditional regional dish is the cocido gallego, a stew with chickpeas and meat. If you love seafood you should also not miss the vieiras (scallops) which are typical of Galicia. Another absolute delight are the empanadas. These are pasties stuffed with peppers, tomatoes, onions then tuna, fish, seafood, mince or chicken. Nowadays this tasty delicacy is so popular that you will find it in every part of Spain. However, it is originally from Galicia and the Galicians surely know best how to prepare them!
A favourite Spanish dessert
If there is still space for dessert you should try the excellent Tarta de Santiago. It's a traditional Spanish almond cake with the Cross of Saint James on top.
A traditional dinner could be the following:
Starter: Vieiras gratinadas (gratinated scallops)
Main course: Cocido gallego
Dessert: Tarta de Santiago or Tarta de Queixo Tetilla (cheese cake made of queixo tetilla)
A good meal also needs a good wine of course. The two most popular ones are the white wines Ribeiro and Albariño. The region offers several liqueurs as well, such as the licor de hierbas (herb liqueur) and the licor café (coffee liqueur). And that's not all! Produced in a very traditional way, Queimada is another very popular liqueur. The liquor is flambéed whilst a conxuro (spell) is used to chase the witches and goblins away during preparation.
I hope I have convinced you to visit this truly impressive and ancient town. Hopefully I have also aroused your desire to take a Spanish course in Santiago de Compostela. There really is so much to discover. The capital of Galicia offers a unique insight to this part of Spain due to its Celtic heritage and location on the Atlantic coast. It is a little bit different from the rest of Spain and that also makes it very special.
– Sabrina