Where to go surfing in Tenerife!
I've lived in Tenerife all my life. Tenerife has some world famous beaches.
However, listen closely as I'm going to tell you about other beaches…you know…the ones you may not be so familiar with! These are the beaches on the north of the island – they're very different to the beaches in the south, which are busy with tourists.
Yes, I am going to tell you about the beaches with real black sand, the ones that are off the beaten track, and are much more worth a visit, especially if you like surfing!
First of all, I have to say that whilst you may need a car to get some of these beaches, I have always travelled by bus, or like we say in the Canaries, by "guagua".
Maybe it is not the fastest way of travelling, but it is undoubtedly the cheapest! If you want to travel by guagua, have a good think about where you want to go and make sure you are at the bus stop on time! You can find information of the bus timetable and routes on this site: http://www.titsa.com/.
So here we go, if you like surfing, the beach and adventure, listen up and pay attention to this short guide to the beaches of northern Tenerife!
Tenerife's capital, Santa Cruz de Tenerife city, is located on the north east side of the island. Not far from the city, in the "San Andrés" district you will find some good beaches, one of them being the popular "Las Teresitas".
Next to this beach is the black sand beach of "Las Gaviotas", protected from the wind, with a young and cool environment (it is also nudist!). The swell is not very frequent, but it is the perfect place to go if you suddenly feel like going to the beach and relaxing.
I recommend that whilst you're there you have a cold beer or a soft drink with a salad at "Charlie's".
To the north/northwest of Santa Cruz, you can find some beautiful beaches! They are situated within the natural park of Anaga, one of the few places in the island where is still possible to see the ancient laurisilva forest (http://en.wikipedia.org/wiki/Laurisilva).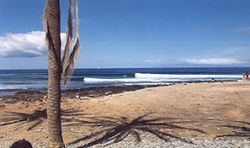 The environment is simply awesome, all green and with gorges that finish when they meet the beaches of Taganana, Almáciga and Benijo. You'll also find black sand and rocky beaches, with good waves all around the year, with some strong currents.
I would suggest to walk around the area, but don't forget to take a map! In La Laguna, one of the biggest cities in Tenerife, you'll find Bajamar, a very famous spot for surfing, with good swells all around the year. The black sand and rocky beaches of Bajamar are only 20 minutes by car from the city centre of La Laguna!
If you really like the adventure, travel to the north of the island. One of the best places to go is Los Patos beach, near el Puerto de la Cruz. It is not really easy to get this beach – you have to walk through banana trees and be aware of the rocks, but there you can enjoy really good waves and a beautiful landscape!
Last, but not least, take a look at El Socorro. This beach is one of the birthplaces of surfing in Tenerife, a really cool beach, especially in summer, when is really sunny and crowded by the local people. This beach hosts one of the surfing contests of the WQS or World Qualifying Series.
These are some of the beaches where you can go to surf if you are a beginner, or just to relax and sunbathe, far away from the tourists!
Of course, there are other beaches I have not mentioned, but I will leave you to discover them yourself! If you're interested in a different surfing location, or doing a Spanish & Surfing course you may like to check out Lanzarote, another great surf spot in the Canaries.
If you are interested in Spanish courses in the north of the island, then please visit our Puerto de la Cruz page! We also have a Spanish school in Costa Adeje, in the south-west of Tenerife.
Jorge