Eurovision – WE ARE ONE!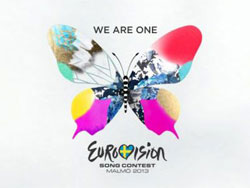 The party is over for another year.
We enjoy watching and listening to everything that involves different countries and languages so we are naturally all big Eurovision fans here at Apple Languages!
Here are some thoughts I'd personally like to share about this event.
Each year I like to hold a Eurovision party where all guests represent one of the participating countries, dress up in a traditional outfit or flag and bring a typical dish from that country! Since watching the semi-finals, I thought Greece's act was brilliant and one of the only songs that really captured my imagination of what the 'party-mood' should be like, so I decided to represent that country. Other guests at the party represented Italy, Sweden, Germany, Spain and England, so you can imagine that we had loads of delicious dishes!
Apart from all the international food and drink, we also enjoyed the evening's entertainment and music – especially because of the many surprising moments that surprised us during the show: a Ukrainian giant, a harmless lesbian kiss (that saw the show pulled off air in Turkey!), a very high voice from a Romanian vampire, a mono-brow in fashionable double denim from Armenia, half-naked tattooed drummers from Ireland, Jean-Paul Gaultier designs worn by Swedish cameramen and the most entertaining song of the whole show – the Swedish smorgasbord song during the interval! Also, how did the man in the box from Azerbaijan manage to move around like that?
An interesting evening all round then, with Denmark as the bookies favourite from the start and the well deserved winner. As usual, Spain, France, Italy and Greece performed in their own languages, which was nice to hear.
If you would like to be able to understand the lyrics of these countries next year, why not take a language course with Apple Languages 😉 Offering a large amount of language course locations in Spain, France, Italy, Greece and even Swedish in Stockholm. We also offer several language + cookery courses, where you can learn how to prepare a traditional dish for next year!
Stephanie