Amazing Montevideo – what to see and do!
Uruguay is an enchanting country on the Atlantic coast, located between Brazil and Argentina. Visitors often overlook Uruguay as it is also the second smallest country in South America. This is a real shame! We would therefore like to show you what to expect whilst visiting Uruguay and studying Spanish in the stunning capital city, Montevideo.
If you don't know what much about this small Latin American country then this blog post will hopefully help! Make sure you prepare yourself for amazing Montevideo. Find out what to see and do when attending an incredible Spanish language course in the most important city in Uruguay.
Experience Montevideo's impressive culture
With many museums, theatres and beautiful buildings, Montevideo offers plenty of opportunities to immerse yourself in the country's rich culture.
Montevideo is full of art deco and neoclassical buildings, making it a feast for the eyes. This allows you to enjoy the city's atmosphere just by strolling around the streets and admiring the wonderful architecture. Ciudad Vieja, the oldest part of Montevideo, is definitely worth a visit. There you will find the port of Montevideo which is also one of the major ports in South America. With plenty of nightclubs, this part of the city is also Montevideo's nightlife hot spot.
Delve deeper into Uruguayan art and history by enjoying a visit to three of Montevideo's fascinating museums:
Museo Nacional de Artes Visuales (National Museum of Visual Arts) – displays paintings of famous Uruguayan artists, such as Blanes and Figari.
Museo de Arte Precolombino e Indígena (Museum of pre-Columbian and indigenous art) – offers permanent exhibitions of archaeological and ethnographic items of indigenous cultures across America. Go there to learn something about Uruguay's ancient history!
Museo Histórico Cabildo – learn something about Montevideo's early days and see some interesting temporary exhibitions.
If you love theatre performances and have some free time in the evening you should visit the Teatro Solís. Choose from a wide range of different performances and enjoy some captivating plays. At the same time you can improve your understanding of the Spanish language!
All about football
Why is it important to mention football when talking about this country? In fact, Uruguay hosted the very first World Cup and even won it! Today, the Estadio Centenario lies in Montevideo, originally built for hosting the World Cup. The national team still uses it today for international football matches. Completed in 1930, the Uruguayans also celebrated the centenary of their first constitution. This is where the name of the stadium comes from!
You can take a tour of the stands and visit the Museo del Fútbol, which is situated under one of the four stands. There you will learn everything about the history and achievements of Uruguayan football. You can also marvel at a wide variety of exhibits, such as trophies, signed jerseys and the match ball—used in the very first World Cup final!
Explore the locals' favourite places
In the beautiful Ciudad Vieja district right next to the port you will find the Mercado del Puerto. In this covered market you will find lots of local arts and craft. Make sure you also taste the delicious typically Uruguayan food. Eat in one of the nearby parrillas and enjoy a succulent steak, or other various types of meat. The Mercado del Puerto is also the perfect meeting place for local street musicians, artists and craftspeople.
In the heart of Ciudad Vieja you will also find the Plaza Matriz, also known as Plaza Constitución. In colonial times this was the centre of Montevideo and is now the city's oldest square. Magnificent neoclassical buildings surround Plaza Matriz, giving it a unique atmosphere. It is a pleasure to walk around.
Don't miss the Iglesia Matriz, a church located on the west side of the square. Completed in 1799, it is the oldest public building in Montevideo. Many benches also allow for a short break before you continue to explore this remarkable city.
Your next stop, after a short rest, should be the Palacio Legislativo. This historic political building from 1908 still hosts the General Assembly of Uruguay. It is worth seeing this building for its façade alone as it is a beautiful example of the neoclassical style. From Monday to Friday at 10.30 am and 3 pm you will be able to take a guided tour of the parliament building.
Immerse yourself in Uruguayan Carnival
Uruguayan Carnival is usually celebrated from late January until early March. The celebrations last for 40 days, making them the longest carnival celebrations in the world. People celebrate carnival across the country but the main festivities take place in Montevideo. Get an insight into the true Uruguayan culture and experience the celebrations like a local without that many tourists. Enjoy colourful parades, traditional music and dance performances whilst socialising with the friendly locals and working on your Spanish skills!
If you are unable to visit Montevideo during carnival period, you can still learn something about the Uruguayan carnival celebrations. Go to the Museo del Carnaval and delve into the history of this unique festival, which goes back more than 100 years. Marvel at exhibitions of traditional costumes, masks and instruments. During the summer you can also enjoy performances in the museum's courtyard.
Enjoy peace and relaxation
Montevideo offers plenty of places for relaxation. If you prefer to relax after your Spanish lessons, or just want to take a break from a tour of the city, you will easily find what you are looking for.
Take a leisurely walk along the Rambla, a wonderful promenade on the Río de la Plata. This promenade continues along the whole coast of Montevideo. At over 20 km long it holds the world title for longest uninterrupted pavement! The government has also protected the beach side of the promenade, giving you an unspoilt coastal view.
Relax in one of Montevideo's numerous parks, such as the Parque del Prado – the largest one. Here you will also find Montevideo's superb botanical garden which is particularly worth visiting in spring.
Montevideo also has plenty on offer for beach lovers. It is home to several beaches, ideal for water sports or a little nap in the sun. Enjoy the sun and the sea and recharge your batteries.
Treat yourself to delicious food…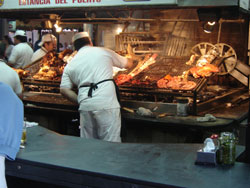 The most important thing to know about the Uruguayan cuisine is that you will rarely find a dish without meat. The locals love grilled meat dishes, known as parrilladas in Spanish. However, Uruguayan parrilladas often include all sorts of meat and it is not uncommon to have grilled offal on offer.
Probably one of the most common things to eat in Uruguay is the chivito. Derived from the word chivo, meaning goat, sliced, tender beef steak is actually the main ingredient in these tasty buns. Mozzarella, ham, olives, tomatoes and often bacon, eggs and a side of fries complete the tasty snack. Unless you are vegetarian, you should definitely try the chivito—an essential part of everyday life in Uruguay!
A very particular treat is the pizza por metro, which translates as pizza by the metre. Like the pizzas you might have eaten at home, you can have this Uruguayan speciality with lots of different toppings. The rectangular pizza por metro is, unsurprisingly, sold to hungry locals by the metre.
Those who prefer sweet to savoury food need to look out for dulce de leche. Popular throughout South America, dulce de leche is made from milk, sugar and vanilla. The slowly heated sweet milk becomes caramelised as part of the production process, creating a sweet paste. Many South American cakes and pastries are filled with this versatile ingredient. You can even buy dulce de leche ice cream! Eat it as a spread or heat it up and pour over waffles and pancakes.
If you are peckish on a walk through the streets of Montevideo then try the sweet garrapiñadas. These tasty treats are peanuts coated in caramel, with a subtle flavour of vanilla. Get your own little bag of traditional garrapiñadas from one of the street vendors.
…accompanied by Uruguay's most popular drinks
Uruguay's national drink is Grappamiel, an alcoholic drink made of the originally Italian grappa, honey, water and sugar. Drink it on its own, or with many different added flavours, such as chocolate, peanut or strawberry.
The country also has great quality wine on offer. You should taste the red tannat wine, made of the most popular grape in Uruguay. Medio y medio is another popular drink. This national favourite consists of equal amounts of dry white and sparkling wine.
As in other South American countries mate is also very popular in Uruguay. It is actually defined by law as the "national infusion" of Uruguay. Mate is a delicious hot drink, made by pouring hot water over dried mate leaves, similar to tea. It is often drunk during social occasions as friends and family like to share it. Passing the drink around so that everyone can have a sip is a cultural ritual which the locals really enjoy.
Montevideo really is a breathtaking and multi-faceted city offering countless opportunities to experience true South American culture. Exploring the city's cultural heritage whilst learning Spanish at our language school is an incredibly enriching experience. When returning home you will surely have some very interesting stories to tell. So pack your suitcase and start your journey to the southernmost cosmopolitan city of the American continent!
Sabrina