New School – Newcastle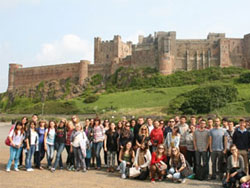 If you are considering booking an English language course, to improve your general English, for your studies, or to increase your career opportunities, then take a look at the details of our school in Newcastle, in north east England!
We have recently published details of this fantastic modern language learning centre, located in the very centre of this lively and elegant, student-orientated city. Newcastle is a fantastic location for international students with a wide range of student facilities and entertainment of all kinds, as well as being close to places of natural beauty in the UK, such as the scenic Lake District and the beautiful city of York.
There are many attractions in and around Newcastle, including the famous 7 bridges across the river, the attractive quayside and the Norman castle, which gave the city its name, but one of the city's best assets is for sure it's people! The Geordies, as the locals are known, are a very warm and friendly bunch of people, who would be more than willing to help you practise you English skills over a pint in the local pub!
The school is located in a historic building in the centre of Newcastle and close to all the shops, cafes and within easy reach of all places of interest. We offer programmes to suit students of all levels of English, including complete beginners and the courses start on every Monday. There are various different accommodation options to choose from and a varied cultural programme of social activities, events and excursions to suit all tastes! Newcastle is renowned for its nightlife, so bring plenty of energy and be prepared for a wonderful time in this vibrant city!
Apple Languages