New school – Tokyo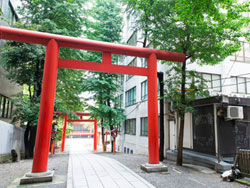 We have just published the full details about the language courses we offer for anyone wishing to travel to Tokyo in Japan, to learn Japanese! There are some things in life that we all should do once and experiencing incredible Tokyo is perhaps one of these things!
Our school is located just a few minutes walk from the world's busiest train station, can you imagine!? THE WORLD'S BUSIEST! And yet, the school building provides a tranquil, calm and friendly environment in which to learn Japanese. Whether you are a complete beginner or you already have some Japanese knowledge, you can start a course at our school in Tokyo on any Monday of the year. The classes are especially structured with western students in mind, using modern teaching techniques and with great deal of focus on communication skills. Our teachers use real life situations and trips out into the city to help you to consolidate your learning with practical experience. You will learn more than you can imagine during your course with us.
Among the many things to see and do in Tokyo city, here are some you maybe have not thought about yourself! You will find: the world's biggest fish market, a baseball obsessed nation, electronic stores like theme parks, expensive antique robot toys (if that is what you are looking for), noodles and sushi to dream of, cyberpunk infrastructure, apartments like MC Escher drawings, the world's best fashion outlets, the most bars per square metre, the world's most spectacular firework displays, the finest art cafes and incredible street festivals! The list goes on and on!
Our Japanese language school in Tokyo is waiting for you!