Hi f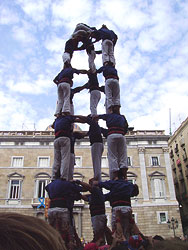 olks!
Firstly, I would like to introduce myself: I am Genta and last year I took a Spanish course in Barcelona. I love this wonderful city! It has everything! The sun, the beach, the narrow and romantic streets, the bars and clubs, good food, festivals, the best football… You never get bored!
I was lucky enough to be there during September and La Mercè. This is a local holiday throughout Catalonia and Barcelona celebrates every year with the festival of festivals, 'La fiesta Mayor'!
Last year, Barcelona celebrated its patron saint, the Virgin of La Mercè (the Virgin Mary) with live concerts, traditional music, dance, theatre, cinemas, street shows, circus and all kinds of different sports. I really enjoyed seeing the traditional Catalan dances, particularly the Gironese Sardana, and the castellers (human castles) were amazing!