Californian vibes in San Diego
If you love the beach, sports, and the charm of American cities, San Diego is the place to go! With two gigantic beaches and loads of water-related activities available, this is one of the best American locations in which to learn English. Take the plunge and create unforgettable memories in the sunny state of California.
Read on to get an idea of what a stay in the beautiful city of San Diego might look like.
A week as an English student in San Diego
Studying English in San Diego is not just about schoolwork. Students have plenty of opportunities to discover what 'America's finest city' has to offer.  Here we delve into the laid-back Californian lifestyle on a typical week in San Diego:
Monday 🚴
You start the day by cycling along the coast on your beach cruiser bike. You check out the Pacific Beach and the district of the same name that opens onto it. After a spot of sunbathing, you take a walk around to soak up San Diego's atmosphere. Afterwards, you grab some food in one of the many seafront eateries.
Tuesday 🐳
You go on a whale-watching tour (you can do this by boat or kayak) and learn more about these majestic mammals in their natural habitat. Once you are finished with that, you head out to the Coronado Beach. You have enough time to complete your homework while you wait for the beautiful sunset, which is spectacular from here.
Wednesday 🏌️
First you take some golf lessons at one of the many courses, working on your club-handling and practising your swing. Afterwards, you watch a baseball game with your classmates and get a feeling for the American spirit of sports.
Thursday 🐯
You decide to visit the San Diego Zoo, to learn more about the 3,500 animals housed there. After a great time here, you hit the beach again to catch some more of the Californian sun and maybe swim in the ocean.
Friday 🎳
After school, you rent a boat at Pacific Beach and discover the deep blue sea off San Diego. In the evening, you go bowling with your class, and enjoy ice-cold drinks and some tasty American food.
Saturday & Sunday 🎰
At the weekend, you take part in the school's excursion to Las Vegas. While you're here, you visit the national parks surrounding the city and in the evening you go out to experience this iconic place at night. Maybe you also try your luck in one of the casinos?
Beaches of San Diego
San Diego offers wonderful beaches that are just waiting to be discovered: Coronado Beach, home of the iconic Coronado Hotel, and Pacific Beach to the north-west of the city.
Coronado Beach
Coronado Beach lies on a peninsula that is connected to San Diego. On this peninsula is the eponymous resort town of Coronado. The resort is connected to the mainland by the Coronado Bridge, which makes it a lot easier to get back and forth.
View this post on Instagram

This massive sandy beach is the ideal place to take part in some water sports, to go swimming in the warm waters, to top up your tan under the hot sun, or simply to do your homework in a lively area. Our school in San Diego offers surf courses as well as language tuition, so if you've always wanted to master the ocean waves then this is your chance to start! This area is also really popular with beach volleyball enthusiasts; there are several courts available should you wish to try your hand. Whatever you do, this is the perfect place to get some Vitamin D and engage with the majestic beauty of the ocean. Speaking of beauty: Coronado Beach is considered one of the best places to witness a stunning sunset.
Pacific Beach
On the other side of Mission Bay there's Pacific Beach, which gives its name to the large and youthful district that stretches from the shore right back to the highway. As with Coronado Beach, Pacific Beach offers opportunities to surf, swim, or just to work on your tan. If you like to go on an adventure, you can rent a kayak or a sailboat and spend an afternoon on the water.
Also available to rent are so-called beach cruisers: bicycles that are optimised for relaxed travel along the beach. These bikes offer a comfortable way to see more of the coast – if not all of it – and to scout the area for shops and restaurants.
Luckily, the area around the beach is flooded with restaurants and all different kind of eateries. Whatever your favourite food or dietary requirements, you're guaranteed to find something that suits you at Pacific Beach! If you're looking for somewhere to relax that's close to the city, this is just the place.
San Diego Sport
San Diego is full of sports. Whether you're looking for a thrilling match to watch or a game to play with friends, San Diego offers you plenty of options.
As part of the activity programme, our school organises a trip to see a baseball game at Petco Park stadium. Baseball, as America's national sport, is a great way to experience the true spirit of the country. In fact, this might be the most American experience you could be part of – get a hot dog and don't miss out!
Ever tried golfing? If not, why not take some golf classes and get into this popular sport? Learn how to swing the club like a pro and soon you'll be able to play on the green alone. San Diego has a number of golf courses and driving ranges, so you're sure to find something in convenient range of the school or your accommodation.
If you like it a bit more casual, you'll have more than one chance to go bowling, since there are alleys all over the city. An evening at the lanes is the perfect way for some healthy competition with your new friends, while you enjoy a cold drink and perhaps an American snack.
One of the most popular activities our school offers is indoor rock-climbing. This is a great way to test your own limits and enjoy a good challenge. See if you can beat your classmates – or even yourself – and perhaps even face your fears. As a fun way to keep fit, you'll definitely feel the burn afterwards!
Wildlife experience
San Diego offers also something for everyone who's into animals. The most stunning activity might the whale-watching tours, though. Sure, you can visit SeaWorld on the mainland and see the whales there, but this has nothing on the feeling of being out at sea and getting up close to these peaceful giants. Take a cruise with a bigger boat or go for an even more immersive ride and take a whale-watching kayak tour!
For those who prefer dry land, there's the San Diego Zoo. This 100-acre-wide zoological garden is home to over 3,500 rare and endangered animals from a total of 650 species. Here you can learn more about the world's animals, especially those at risk of extinction, and what the zoo is doing to try and fight this.
San Diego Zoo is actually one of the biggest players in animal conservation in the world. It operates together with Zoo Safari Park, the San Diego Zoo Institute for Conservation Research, and the San Diego Zoo Global Wildlife Conservancy. This is more than just an attraction built for humans to have fun – here you can actively support global wildlife and help to protect it from extinction.
View this post on Instagram
At the weekend
If you're stuck for what to do over the weekend, don't worry: our school knows what to do! There are various options for weekend excursions and activities.
Universal Studios
For every movie fan out there, a visit to Universal Studios is just the thing. The mixture of amusements and informative sights make this a perfect place for visitors of any age. The Studio Tour is almost iconic – visit the largest set construction project in the world, which was built in collaboration with famous director Steven Spielberg. Join in the tour and learn more about the process of movie-making, set-building, and more, led by your video guide: talk-show host Jimmy Fallon.
View this post on Instagram

Potterheads: the park has a section called The Wizarding World of Harry Potter, where you can explore parts of Hogwarts, check out shops from Hogsmeade, and try out rides like the Flight of the Hippogriff. Here you can get lost in J. K. Rowling's magical world and experience the most iconic places from the story.
If you like action, you can also see a show at the park. One example is the popular Special Effects show, which teaches visitors how realistic combat scenes are made, how no-gravity sequences are put together, and what goes into making a horror movie. But beware: it's not unusual for the audience to get involved in the action on stage! Really, though, is there a better way to learn and experience the magic behind the movies?
The number one in terms of shows here is WaterWorld. This is a thrilling live show full of firefights and explosions – it even features a plane crash! If you love action and the rides didn't give you enough of an adrenaline kick, try this. The show is made better by the stunning rebuild of the Atoll – the floating community in the film on which this attraction is based – which makes the experience even more unique.
More America
Our school also offers excursions to other popular destinations in California, which is the perfect way to see more of the state. Join in and discover Las Vegas, Hollywood, or San Francisco, and learn more about the iconic sights in these world-famous cities.
In San Francisco, make your way to the Golden Gate Bridge, the giant red construction built over 80 years ago. This iconic bridge serves as a testament to what human beings are capable of. Near here is the Golden Gate Park, a huge public space within the city that's even bigger than New York's Central Park. As a green oasis within this busy metropolis, offering a wide range of things to see and do, this park is absolutely worth a visit.
Hollywood is another place for movie enthusiasts and a focal point of worldwide pop culture. You can visit the Wax Museum or Madame Tussaud's and find out how close the models are to reality. You can visit a variety of theatres and Hollywood-related museums, and walk along the world-famous Walk of Fame. As well as the obvious attractions, Hollywood is full of fashionable shops, eateries serving a wide variety of foods, and lively bars.
Las Vegas, meanwhile – in neighbouring Nevada – is a place that needs to be seen to be believed. First of all you have the nightlife, which you shouldn't miss if you take the trip. The whole of the strip is illuminated with bright, colourful lights, giving it a distinctive charm. Whilst here, try your luck in one of the many casinos or enjoy a meal in one of the many restaurants. But remember: this city has more to offer than its famous strip. Visit its different museums or spend some time in the vibrant Arts District. Don't forget that Vegas is surrounded by many national parks, including Death Valley National Park, the Mojave National Preserve, and the Red Rock Canyon National Conservation Area. Take the opportunity to see the dramatic deserts of Nevada!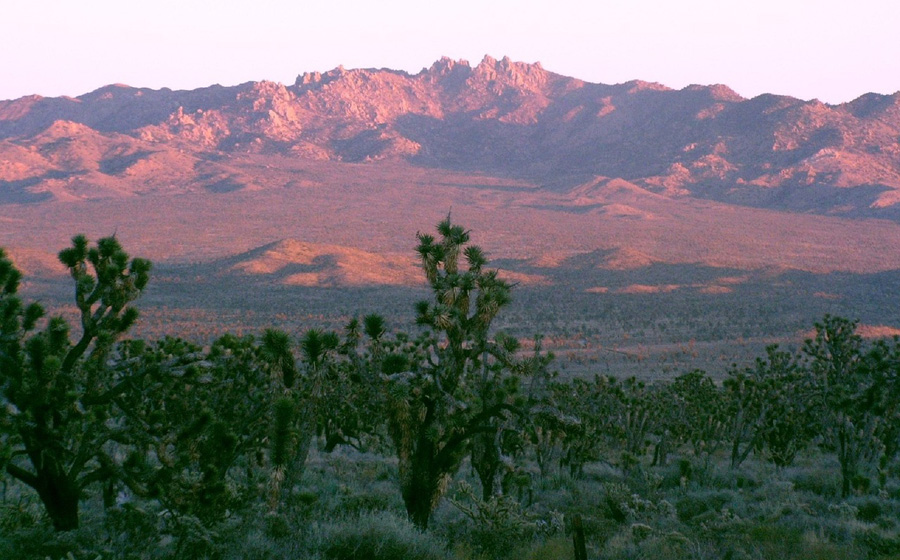 What now?
If want to know more about the San Diego and our English courses there, check out our website. If you have questions about the available packages, get in touch to find out more.