When in Montreal
Hello everyone! This article will feature 10 fun things to do when visiting Montreal! From cultural and sporty activities, to typical Canadian foods to try, we hope these suggestions take all preferences into account.
Montreal is an absolutely wonderful city, offering a wide range of varied activities during every season.
Without any further ado, let's begin!
Zoo Ecomuseum
"A zoo?" You might say. We all know what zoos are like, well brace yourself because this zoo is anything but traditional. In fact, this is a zoo for animal species from Quebec only. Some people don't agree with zoos, thinking of them as a prison for animals. However, this is more of a sanctuary, as these animals would not survive on their own in nature. They have either lost their parents, have been physically hurt, or simply too used to being raised under professional human care.
This special zoo occupies a surface area of 11 hectares. The Ecomuseum Zoo in Montreal allows visitors to discover the daily life of the animals they look after. There are even special activities which take place on fixed dates throughout the year. One of the favourite things to do is breakfast time with the animals. Here you can help with a presentation of an animal (tortoise, lynx, bear…) whilst also enjoying a continental breakfast. You then will get your own hands dirty to prepare the animal's breakfast, serving it in their habitat. There are also activities which allow you to discover what happens behind the scenes as soon as the zoo closes, scientific games and much more!
Wolves, coyotes, porcupines, otter, owls and many other animals await you at the Ecomuseum Zoo in Montreal!
Zoo Ecomuseum – 21125, Chemin Ste-Marie, Ste-Anne-De-Bellevue, H9X 3Y7
Igloofest
Igloofest is an electronic music festival which takes place once a year every January for a total of three weeks. A big stage is installed by the Old Harbour of Montreal and all the surroundings (monuments, buildings) are beautifully illuminated.
The immense crowd is energetic, happy and friendly, so it is a good way to make new friends! One very important thing to mention is that you should dress for the cold. Almost as if you were going to go skiing! There are stalls for drinks and wood fires on-site to warm you up, but don't neglect your warm clothing! For more information about the festival, visit the official website here: www.igloofest.ca/.
Notre Dame Basilica
This is Montreal's oldest Catholic church, built from 1824 to 1829. It is known for its complicated and ornate inside, which incorporates coloured glass chronicling the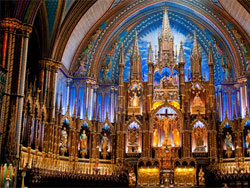 historical backdrop of the city. It is also a major tourist attraction of Montréal.
Despite its importance for tourism (it receives around 2,500 visitors per day in the high season), the Basilica continues to fulfil its religious mission. It is a place of worship where over 120 baptisms and over 120 marriages are celebrated every year.
Notre-Dame Basilica of Montreal – 110 Notre-Dame Street West, Montréal (Québec), H2Y 1T2
Poutine
Poutine (pronounced poo-tzeen) is the regional specialty of Quebec. It consists of french fries topped with cheese curds and hot gravy. This fast-food dish can now be found all across all of Canada and even in some places in the United States.
Don't neglect a visit to a poutine restaurant on your next visit to Montreal!
Here we have given you a list of the six best places to have poutine in Montreal. Check them out:
Best poutine places in Plateau Mont-Royal
La Banquise – 994, rue Rachel Est, Montréal, Quebec, Canada, H2J 2J3
http://labanquise.com/
Ma Poule Mouillee – 969, rue Rachel Est, Montreal, Quebec, Canada, H2J 2J2
http://mapoulemouillee.ca/
Au Pied de Cochon – 536, Duluth Est, Montréal, Quebec, Canada, H2L 1A9
https://aupieddecochon.ca/en/
Maamm Bolduc – 4351 avenue de Lorimier, Montréal, Quebec, Canada, H2H 2B3
http://maambolduc.com/
Best poutine places in Ville-Marie (Downtown Montreal)
Poutineville – 1365 Ontario Est, Montréal, Québec, Canada, H2L 1S1
http://www.poutineville.com/
Garde Manger – 408 rue St Francois Xavier, Montreal, Quebec, Canada, H2Y 2S9
http://gardemanger.ca/
Queues de castor (Beaver's tails)
Another local specialty would be "Queue de castor" which literally translates as beaver tails.
This is a fried dough, individually stretched out to look like a beaver's tail. A dip in cinnamon sugar finishes it off. The client then gets to choose all sorts of delicious toppings including: a maple flavoured spread, Nutella, Reese's peanut butter pieces, bananas, cookies & cream ice cream and much more!
BeaverTails is a chain that can be found in many places in Canada. For the record, there are three BeaverTails restaurants in Montreal alone.
Go try them and let us know what you think!
Fete des Neiges de Montreal
The Fête des Neiges de Montréal is a highly popular event that lasts for four weeks each year with many activities scheduled.
People of all ages are invited to come and discover this wonderful winter festival. From zip lining, ice skating, big bang bulle (human dodgems made out of huge plastic bubble), tube sliding, to a Ferris wheel and a bouncy castle, the Fete des Neiges de Montreal really has something for everyone!
Want to know more? Access to the site and to most of the activities is free! This event occurs weekly, on Sunday and Saturday usually from mid-January to early February.
Caves of Saint-Leonard
Speleological sites in the middle of a metropolitan city are very rare. However, you can find one in Montreal, in the borough of Saint-Leonard, where the famous Saint-Leonard caves are located.
Go explore them and discover mysteries about the earth from the time of the glaciers.
There are numerous stories and legends about this site. Native Americans are thought to have lived there many years ago. Some people even think Patriots used the site as a place to store their weapons during the Rebellions of 1837. However, no evidence has yet been found about any of these stories.
Today, the place organises guided visits from May to August. Special guides/experts in speleology will take you through the fascinating underworld. Most of the material you need for caving is provided on site. However, you are expected to wear long clothes, wellies and gloves. Happy caving!
Caverne de Saint-Leonard – 5200 Boulevard Lavoisier, Saint-Léonard, Quebec, H1R 1J2, Canada
Caves of Saint-Leonard

Montreal Botanical Gardens
The Botanical Gardens of Montreal are considered amongst the most important in the world. They offer fantastic year-round events: exhibitions, animations, etc. You will find over 22,000 species of flowers, exhibition greenhouses, the Maison de l'arbre Frederic-Back, the Insectarium (to discover the fascinating world of insects) and around 20 themed gardens. All of this sits on 75 hectares of land. Montreal's Botanical Gardens is the perfect place to fuel up on fresh air and admire the nature's beauty.
The site is only a few minutes away from the city centre of Montreal, which is ideal for a short break.
Montreal Botanical Gardens, 4101, rue Sherbrooke Est, Montréal, Québec, Canada, H1X 2B2
http://espacepourlavie.ca

Cross-country skiing in the Pointe-aux-Prairies Nature Park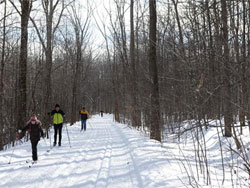 Located only 20 kilometres away from the city centre of Montreal, the Pointe-aux-Prairies Nature Park is the ideal place for enthusiasts of outdoor activities.
Cross-country skiing is one of the most popular activities in the winter. You can rent all your necessary material (skis, boots and sticks) on-site. Skiing close to a metropolitan city has never been easier!
14905, rue Sherbrooke Est, Montréal (Québec), Canada, H1A 3X1
Hiking on Mount Royal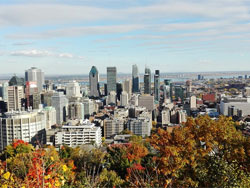 Mount Royal, or Mont-Royal, attracts locals and tourists alike, particularly those who enjoy physical activity. In the summer, the park is full of hikers and joggers, while in the winter cross-country skiers and snowshoers frequent the paths and stairs that lead up to a variety of wooded areas and landscapes.
The park lies in the midst of Montreal island and includes the highest spot in the city (234m). Walking to the summit of Mont Royal is a 6-7 km (approximately 45 min) hike. The view from the top is incredible! Again, this is perfect for breaks from the bustling city, or to just end a successful day of exploring with an incredible view!
Mount Royal Park – 1260 Remembrance Road, Montreal, Quebec, Canada, H3H 1A2
We hope these activities and sights have inspired you to go on a language course in Montreal whether it is in the summer or winter, to learn French or English. As you now know, there is something for everyone and every season in Montreal!
If you do go on a language course to Montreal, let us know how you liked it and if you took part in any of the above-mentioned things to do!
Maria