Retail Therapy in Montreal!
One word and one word only comes to mind when I think of Montreal: SHOPPING! As your average red-blooded American girl, I already had my share of shopping experience under my oh so fashionable belt when I arrived in Montreal, BUT even I was soon exhausted from going from boutique to fabulous boutique in this amazing city!
Of course, I'd come here to learn French, and that's what I did – not only in my classes every morning in the school – but also every afternoon, out exploring the city and its wonderful shops!
There simply isn't enough time in the day to see every store in Canada's fashion capital and thanks to their expansive underground, you don't even have to go outside the city centre if you don't want to. Sure, they have big name chains but what makes Montreal shopping particularly special is the little shops you can't find anywhere else. What's best about these tiny boutiques is that you know no one back home is going to be wearing what you're wearing.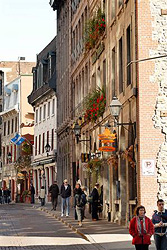 My four weeks in Montreal will keep me "en mode" and "très chic" for at least another year! AND most importantly, I guess, is that now thanks to my French classes at the school, I can now use (and especially pronounce – in French!) words like "mode" and "chic" properly!
Okay, I admit it, there's more to Montreal than just the shopping. In fact, there's a lot more! Everyday interactions with ordinary people take on a new significance when you are learning a new language. Completing a simple transaction at the store in a foreign language can imbue you with a surprising sense of pride and accomplishment. Huge gatherings like the amazing Montreal Jazz Festival really give you a sense of Montreal's diversity.
Actually, it seemed like there was a different festival every weekend. For an art junkie like me, the Musée de beaux-arts and the Musée d'Art Contemporaine were heavenly. However, it is hard to match the beauty of the view at the top of Mont Royal as the sun sets behind the city. The monkeys and penguins at the Biodôme are worth the price of admission alone. Conveniently close to the Biodôme are the Botanical Gardens which are among the best I have ever seen.
You don't want to tire yourself out too much during the day, of course, because you have to leave yourself SOME energy to take advantage of Montreal's famous nightlife! Let me tell you, Montreal is a city that knows how to party! There's something for everyone; from authentic Irish Pubs to flashy clubs. All in all, Montreal can boast to having it all. It has art, culture, fun, and the opportunity to learn a new language. Oh, and did I mention the shopping? What more could you ask for!!
Erika (U.S.A.)