Chile, here I am!
I had the chance to spend a half year in a foreign country because of my studies. As I am studying Spanish back home in Germany, it was obvious that I should do a Spanish course in either Spain or South America.
So, I decided to go to Chile! Why? I can't explain, but it was just such a feeling, a great chance I thought.
When I arrived in Chile everything was totally new and I was so excited to be in this country. I was truly impressed by its landscape, the Andes with its snow on the peaks and also in Santiago de Chile Mount San Cristóbal with its statue of Virgin Mary.
While we drove to my accommodation, an apartment belonging to the Spanish school in which the students can live, I recognized some people listening to "Cumbia" and dancing to the music on the street. And just in that moment I thought: "Yeah, this is right for me… and I really want to get to know this country!"
Because I was living in an apartment shared with other students, I met new people really fast. So on the very same day that I arrived, some of the students in my apartments took me on a walk around the really nice, upper-class district of Providencia, in which the apartment and school are located. There were a lot of things I needed to learn and get to know about. So, they showed me where the nearest supermarket was, shops, banks, laundry, etc.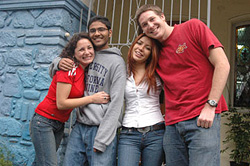 The first week started with the Spanish course I've chosen. My expectation was not very high. I only wanted to improve a bit my Spanish, particularly grammar. But I tell you, I've never thought that I would learn that much just in the first day of classes. I was really surprised.
With a placement test the school was able to gauge my Spanish level really well – and I soon found that the teachers were also really professional – but friendly!
Outside lessons you can participate in different activities, organized by the activities coordinator – Horseback riding, dinners, museum visits, theatre trips, parties, excursions to loads of places or learn Salsa in the school! I quickly started to have a really great time with friends I made at the school, joining in activities and exploring Santiago.
All the impressions and experiences that I've already have of this incredible country and continent, accompanied by the Spanish classes, have been the BEST mixture of things I've ever experienced in my life!
I'm really looking forward to my next few weeks here!
Andrea (Germany)