Cartagena on Colombia's Caribbean coast
On the coast of the Caribbean Sea and close to the neighbouring country of Panama you will find Cartagena, one of the biggest cities in all of Columbia. Founded in 1533, it soon became one of the major trading ports in Spain's South American empire.
Cartagena has the best of both worlds: a rich and vibrant culture that reverberates through the city and lots of fun free-time activities on offer. Luckily for you, our language school here not only offers high-quality Spanish tuition but also an extensive cultural programme that helps you make the most of your time in Cartagena. Read on to find out more about what's on offer and what awaits you in what the locals call the 'Magic City' of Colombia.
Fresh produce from a port city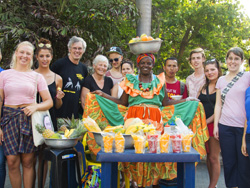 For our Spanish school in Cartagena, it's important to offer an extensive activity programme so you can understand Latin American culture better. That's why they spice up your classes with an immersive experience of Colombian daily life. Don't be surprised to find yourself in a bustling central market, sampling exotic and tropical fruits like the Gulupa, the Pitaya (better known as Dragon Fruit), or the Borojó (a superfood used worldwide to treat common ailments like hypertension and bronchial infections). You will be accompanied by the iconic palenqueras – women dressed in bright, colourful dresses who sell fruit from bowls balanced on their head. These vibrant ladies have become a symbol of the nation itself.
It's not just fruit that's on offer in Cartagena's food markets. You'll find vegetables, meats, and fresh fish, as well as a range of hot and cold street food. These markets might be one of the rawest cultural experiences there is; here you can be part of everyday life and get a sense of what living in Cartagena really feels like. You're sure to find a new favourite food after an afternoon in the city's streets!
Venture into the Old Town
Guided tours through the Old Town of the city, which is listed as a UNESCO World Heritage Site, feature regularly on our school's activity programme. You will stroll through public squares, see churches, and visit museums, which will all give you a deeper insight into the essence of this city. One such museum is the Museo del Oro –  the Gold Museum. This is the little sister of a larger Museum complex in Bogotá and focuses on the intricate adornments of the Zenu, the indigenous people who lived in the region 2,000 years ago. Though the name might suggest otherwise, it's not just gold in this museum. There are also exhibitions of ceramics, wood, and textiles for you to discover. This is the perfect way to get a feeling not just for the history of Cartagena but also of Columbia itself!
In the centre of the Old Town is 'Fat Gertrude', a massive statue by Colombian sculptor Fernando Botero. Botero is perhaps Latin America's most famous living artist. He specialises in exaggerated figures, a style now so well-known that it takes his name: boterismo. Locals say that touching Gertrude's left breast will grant luck – an unorthodox custom, perhaps, but one that's worth seeing for a true sense of the city.
A really impressive site is the Castillo San Felipe de Barajas. This gigantic fortress can be found on the Hill of San Lázaro, which was an important strategic position during the first centuries of the Spanish Empire. A total of 63 guns face outwards, protecting against attackers, whilst sloped outer walls prevent entrance from unwanted forces. The fortress even has interior chambers specifically designed to explode should enemies gain entry, preventing them from invading any further. These design features make this formidable castle one of the greatest construction works in South America, and in 1984 its importance was formally acknowledged when the building was listed as a UNESCO World Heritage Site.
Fun and free time in Cartagena
After your language classes, this city offers a perfect range of activities and attractions to experience in your free time. Our Spanish school will arrange some for you, so it's even easier to relax and enjoy the ride!
Colourful streets frame the Cathedral of Cartagena in Colombia
The old walled city, especially, offers many key attractions of cultural and historical importance, including the Museo del Cacao (Cocoa Museum), the Museum of Modern Spanish Art, and the iconic Plaza Bolívar. Here you'll find the city's cathedral, built in the late 16th century. This striking yellow building is emblematic of Cartagena and replaces the first cathedral on this spot, which was made of straw and reeds. Another striking – and yellow – monument is the Torre del Reloj, or 'Clock Tower'. One thing's for sure: Cartageneros love colour!
On your travels through the city, don't miss the Pier Los Pegasos at the Bay of Souls. The port – so named for the thousands of slaves who came to the country through here – is flanked by two huge and impressive statues of Hercules' famous winged horse. This area is packed with eateries serving delicious local fare, like fried mojarra with coconut rice, mote de queso (a rich cheese-based soup), and arepa de huevo, a sort of mini taco stuffed with mince and egg. Delicious!
Dancing is an important and mesmerising part of South American culture, so why not learn more about it while you do it? Luckily, you can participate in the dance classes offered by our school and master a variety of styles including salsa, merengue, cumbia, vallenato, bachata, champeta, mapalé, or reggaetón. Whatever your preference, our school can teach you! If you can't decide, why not try a bit of each to see what fits you best? Don't worry if you're not a born dancer – our tutors will have you moving like a pro in no time!
Beaches in and around Cartagena
If you're a water baby, Cartagena is definitely the right place for you. Over 80% of the city's perimeter borders the Caribbean Sea, and its stunning beaches are renowned worldwide.
Here you can swim, dive, or simply soak up the sun once your lessons have finished. More active students can surf throughout the year or, if the wind hits just right – as it does in January, February, and August – do some kitesurfing! There are businesses along the coast offering equipment and tuition to anyone wanting to blow off some steam in the water, and a wide range of water sports for you to try and learn.
One of the best local beaches is Punta Arena on Isla de Tierra Bomba. This beach is so beautiful, we'll forgive you for thinking you're on a movie set! Just 10 minutes by boat from Cartagena are white, sandy beaches lapped by the turquoise waters of the Caribbean Sea. With a good view of the city and its skyline, you can lie on Punta Arena and just enjoy life itself.
If you're looking for a good beach within the city, go for Castillogrande. The water is clean and clear, and there are fewer people here than on other beaches, so you have more of an exclusive experience. For everyone who wants to watch a beautiful sunset over paradise, just stay here and wait; this beach is considered one of the best on which to watch this dazzling daily event. When the sun kisses the horizon here, you can see why they call it the 'Magic City'.
Under the sea
Cartagena is not just a vibrant city above ground – the coastline hides a bustling underwater world just waiting to be discovered. Only an hour's drive from the city is the giant national park that is the Rosario Islands.
The park is actually an archipelago comprised of 27 islands, known for their diverse ecosystem and wonderful beaches. If you can't get enough of Mother Nature and want to spend some time away from the masses, then the Rosario Islands are the place for you! Cartagena is, after all, a huge city. If you don't have access to your own transport, a bus from the city to the national park is only around $10, so a visit to this gorgeous place won't break the bank!
Here you can snorkel at one of several beautiful coral reefs and experience one of the most fascinating and beautiful natural habitats in the world. More adventurous students can take it one step further by diving, either at the national park's reefs or in one of the many diving spots along the city's coastline. There are around 1,300 species of plants and animals in this part of the world, so you will have plenty to see and do!
If, after all this, you're still not done with the marine life of Cartagena, you should visit Isla San Martín de Pajarales. This little island in the Rosario archipelago boasts a large aquarium with several open-air tanks. Besides the exotic fish that you might have missed on your snorkelling or diving trip, the aquarium also offers dolphin shows and shark feedings. This place is well worth a trip, especially if you want to cover all the water activities on offer in this area. The setting is rather idyllic, too!
More unmissable nature
At weekends, our school usually organises an excursion to a local place of interest. One such destination is Santa Marta, home to Tayrona Park. The park has many faces; covered in rainforest, it has beaches and hillsides reaching over 900 metres high. The ecosystem here is very diverse and offers much to see. With approximately 100 species of mammals, 200 species of birds, and 50 species of reptiles, this place is very much alive!  Besides that, this 150 km² site boasts archaeological sites dating back to the time of the first European settlers.
So what are you waiting for? One of the finest places in Columbia awaits, with all its culture, nature, people, and – of course – its language. Taking a course here is not just about acquiring a new skill in an immersive and charming environment. It's also about creating memories that will last a lifetime.
You've no more excuses – book your language programme now and go and learn Spanish in Cartagena!