Salsa and Spanish!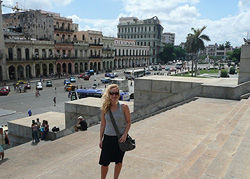 My name is Jessica and at the beginning of 2008, I spent 6 weeks living in Havana, Cuba. I had the time of my life!
I arrived in Havana at the end of March, which was an excellent time to go, because the weather was perfect. My host family came to pick me up, and brought me back to a nice apartment in west Vedado, an area just bordering the district of Miramar. There was a girl from England staying in the room next to mine, and over the course of our time in Cuba, we became great friends!
Over the course of the next 6 weeks, I discovered "The Real Cuba"; that is to say, the Cuba that tourists generally don't see when staying at the all-inclusive beachside resorts. In Havana, I met a warm, generous people; I discovered a bubbling, hard working society; and I became confident speaking and conversing in Spanish. Most importantly, I spent many a night at the local clubs dancing Cuban salsa into the wee hours of the morning.
I went to Cuba with little to no knowledge of Spanish; I'd taken a few preliminary courses at a centre in Toronto, but my understanding of verb conjugations and my vocabulary were still very basic.
The moment I met my professor in Cuba, I knew he would be an excellent teacher, and I was right! Not only was he able to accurately gauge my skill level, but he was also able to pick up where my other course in Canada had left off, and to take me far beyond "the basics". Within 6 weeks, I was actively conversing with Cubans and participating in games and conversations in Spanish.
Going to in Havana was one of the greatest experiences of my life, and I would gladly recommend it to anyone who wants to study Spanish in one of the most unique learning environments in the world!
Jessica (Canada)