Bordeaux – one of my favourite cities in Europe!
Hello everyone! Having Bordelais (Bordeaux) blood and having lived there for quite some time, I thought it is time write a blog post about things to do in Bordeaux. You might not know what to do with a day or two in one of my favourite cities in Europe. Or, you may be lucky enough to attend a French language course for one week or more.
We have previously written about insider tips, but I want to give you suggestions about my favourite places in Bordeaux to eat and fun things to do. So without further ado, let's start!
Breakfast/brunch in Bordeaux
The best way to start the day is by having brunch at La Cagette. This is a lovely little restaurant in the very centre of the city. I usually opt for their delicious orange blossom yoghurt with strawberries and popcorn-granola. Delicious!
I would then suggest going to Place de la Bourse (Stock Exchange Square). This is our equivalent to Wall Street in New York City.
From there, you should admire the Miroir d'eau (Water Mirror), just in front of the Stock Exchange building. Take a walk along the Garonne river all the way to the Place des Quinconces. Here the principal sight is the Girondists monument. The Girondists were a revolutionary political party during the French Revolution. The members all came from the French Gironde department, where Bordeaux, its prefecture, is located.
Lunch in Bordeaux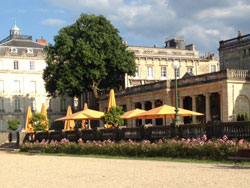 My next suggestion is having lunch at l'Orangerie restaurant, just 5 minutes away from the Girondists. It is situated next to a 10-acre park, the Jardin Public (Public Garden) of Bordeaux. I personally love the atmosphere there, especially when the sun is out! My favourite thing and top tip here is to order the grilled hake.
Why not take a stroll in the park while you are there after a surely delicious lunch? There are tons of different paths to take you around the park. Just a truly beautiful place. Don't underestimate how big this green patch in the centre of town really is. Any day, at any time, a walk through this gem is always bound to surprise you.
Next stop: Place Gambetta, one of the main squares of Bordeaux. You will find a large number of commercial establishments around the square, such as shops, bars and restaurants. All very conveniently just around the corner from our French language school.
You will probably want to take the time to find either Baillardran or La Toque Cuivree which are shops specialised in cannelés (probably one of the most well-known sweet specialties of Bordeaux). If you have seen my post about Gastronomy in the south of France, you would know how OBSESSED I am about cannelés! A trip to Bordeaux without TRYING one is a trip wasted.
Place Gambetta is a nice location to walk around and discover the city at your own pace. It is in the heart of Bordeaux and everything is within easy reach.
Other favourites in Bordeaux
By now, you are probably a little tired of walking around with me. So, here is a quick list of some of my other favourite places to go!
Pâtisserie David Capy – French pastry shop (I recommend having a salted caramel éclair or strawberry-litchi macaroon)
Aux Mots Bleus – ideal for brunch (suggestion: salmon and zucchini cake or the 'Spring Salad')
L'Oiseau Bleu – perfect for lunch (I highly recommend their prawn blanquette with vegetables)
O Sorbet d'Amour – best place for ice cream (I love their Tarte Tatin or Lavender ones as well as their Litchi or Mojito sorbets)
Chez Fred – nice central bar
Aux 4 coins du vin – my favourite wine bar (over 800 wines and delicious deli platters including a vegetarian one!)
– Maria
---
Addresses:
La Cagette – 8 Place du Palais, 33000 Bordeaux
L'Orangerie – Jardin Public, Cours de Verdun, 33000 Bordeaux
David Capy – 7 Rue Michel Montaigne, 33000 Bordeaux
Aux Mots Bleus – 4 Place Jean Moulin, 33000 Bordeaux
L'Oiseau Bleu – 127 Avenue Thiers, 33100 Bordeaux
O Sorbet d'Amour – (multiple locations)
– 11 Place du Parlement, 33000 Bordeaux
– Promenade Sainte Catherine, 33000 Bordeaux
– 14 Place Gambetta, 33000 Bordeaux
Chez Fred – 19 Place du Palais, 33000 Bordeaux
Aux quatre coins du vin – 8 Rue de la Devise, 33000 Bordeaux