Going to Paris? Take a trip up the Eiffel Tower!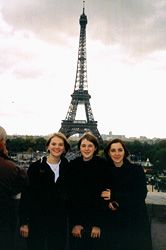 If you're considering a French course in Paris, just listen to a Parisian born and raised!
I had not gone up the Eiffel Tower since I was 6, and my goddaughter, who came to Paris for the first time during the Christmas holidays, asked me to take her.
The Eiffel Tower is always popular. The day we went, although the weather was not very good (it was so windy that they had to close the top floor), there were still plenty of people queuing to catch the lifts.
Even from the 2nd floor, there are breathtaking views over Paris. You can see the River Seine and the bateaux-mouches pleasure boats, Notre Dame, the Arc de Triomphe and Montmartre hill with its Basilica of Sacré Coeur.
If it's your first time in Paris, I would definitely recommend going to the Eiffel Tower. There might be a queue for the lift, but the more adventurous among you can walk up the stairs to the second floor. It's not as bad as it sounds and the views are spectacular.
One of the best times of year to visit the Eiffel Tower is over Christmas and New Year. In 2004, they opened an ice-rink on the second floor, and last year it was a labyrinth. The Eiffel Tower is so amazing from the outside, that it adds value to apartments overlooking it. When it's dark, whatever the season, it sparkles for about 10 minutes every hour, and it really looks like a jewel!
The Eiffel tower is located between the Trocadero Theatre (where you can see several merry-go-rounds and roller-skaters) and the Military School. In the Champ de Mars, the former parade ground that separates the Eiffel tower from the Military School, there are no roller skaters but a lot of children and young people playing basket-ball, people having picnics and locals walking their dogs.
You might even spot some celebrities around the Eiffel Tower, as there's a bilingual school nearby where many of them send their children. The area is quite posh, but very vibrant, with many cafés and restaurants, shops in the rue du Commerce, and antique dealers in the Swiss village.
So, my advice to you is don't miss a visit to the Eiffel Tower during your course – you must have heard a lot about the tower already, and you will certainly not be disappointed!
Celine