Arriving in Hamburg
Well I'm here safe and sound and all is good. I flew Ryanair to Hamburg Lubeck – arriving Saturday and the bus to the city centre could not have been simpler. It was 8 Euros and coincides with the flights, so if your plane is late it will wait – which is reassuring. It took about an hour and I had the back seat to myself, so that was nice! I was met by my friend at Hamburg's main bus station but if someone's not meeting you (if you are thinking of coming) then don't worry. You are right next to the metro and can easily get around for just 1 Euro 30 cents.
Hamburg's metro is not like London´s with barriers everywhere. You could get around a lot and not have your ticket checked, but I know I couldn't go ticketless. If you are caught the fine is severe! That reminds me – I must figure out how to buy a week's ticket. I'm sure it's not complicated.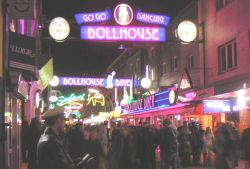 After dropping my stuff off we went out for some really tasty Flammkuchen washed down with Apfelschole – both very typically German! It was then time to visit the bright lights of Hamburg. We headed straight for the famous red-light district, at St. Pauli's metro stop, also known as the Reeperbahn after the name of the street most of it is on. It is also home to a lot of cool bars and mini-clubs that normal people (not just perverts) like to party at… and we did – until 3:30 in the morning!
Sunday morning was a slow one. We eventually left the house at 14:30 after the rain had stopped and made our way through the metro to the German language school I will be at. It is only 3 minutes on the subway so I'm very lucky and don't feel I am missing out on too much by not staying in the on-site residence. Naturally the school is closed on a Sunday, but it was excellent to get my bearings and see the really nice, vibrant and posh! street that is home to the school. We walked down from the school just minutes to the central promenade and had some coca cola (good for a hangover!) whilst overlooking the Binnenalster (a small artificial lake formed from the river Alster). We started to feel hungry whilst reading the menu – only in Germany can you order things like Schweinegeschnetzeltes.
The menu looked nice, but it was pricey so we headed back to the area of the language school and had dinner at a cheap, but very tasty, restaurant called Tiffiny's, named after Audrey Hepburn's most famous character. It was then time home and an early-ish night ready for my 8:30 start and back to school!
Note: I've been told Flammkuchen is actually French, but who cares – it's very popular in Germany and very tasty!
Peter