German Christmas and New Year
As we get closer to Christmas the conversation in our office keeps coming back to how we each celebrate over the festive season and the family traditions we have.  We are very lucky here to be able to work in an office with so much contact with different nationalities. It's always nice to hear about Christmas elsewhere, but it's even nicer to be able to experience Christmas fully immersed a different country!
Below you can read about how Dominik, our German translator, spends Christmas and New Year:
Germans celebrate Christmas from the 24th to the 26th December (at least Catholics do). Traditionally, presents are exchanged on the evening of 24th December. Habits may vary from family to family, but in my case we have a nice dinner in the evening with some really special food we usually don't eat during the rest of the year (many families choose a Christmas goose for the occasion). Another tradition which is widespread is to have something rather simple for Christmas dinner:  sausages and potato salad or fondue. In our case, only me, my brother and my parents meet on that evening (only the immediate family circle). After the dinner, we sit down in the living room around the classic Christmas tree, where everyone opens their presents. Sometimes, we go to the late mass in the church afterwards.
On the following days (25th and 26th December), other family members come for a visit (grandparents, uncles, aunts, etc.) and we all have lunch together on those days.
Some families with small children celebrate Christmas Eve according to the "real" tradition. The children are told that the "Christkind" (similar to Father Christmas) will come over in the evening, bringing them their presents. Some time in the evening, the children have to leave the room with the christmas tree. Later, the parents will sound a little bell – this is the "signal" that Father Christmas has brought the presents and that the children can get back into the room.
Actually, my family has never celebrated it like this – but many families still do!
Traditional German treats for Christmas include: Christmas stollen, Lebkuchen (gingerbread), sweets with marzipan.
I think that the German celebration of New Year is not as significant as in other countries, but one thing that always seems to fascinate foreign people who have never experienced it before is that before any fireworks are set off, there is one widespread tradition in Germany: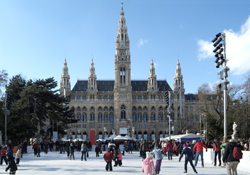 People sit together to watch "Dinner for One" on TV, a comedy sketch which is shown every year in the afternoon/evening of 31st December. It is broadcast at different times on countless TV stations, to make sure that pretty much everyone can see it at a convenient time. No matter whether it was with my parents or with friends – watching this sketch on 31st December is a MUST.
There is also an old tradition of lead-pouring (Bliegiessen, a New Year's Eve custom of telling fortunes by the shapes made by molten lead dropped into cold water) and of course, at midnight, everyone chinks glasses, wishing "Prosit Neujahr", drinking champagne or orange juice. As you can guess, fireworks take place as well then.
To experience Christmas and New Year in Germany Apple Languages offers a special Christmas course at our Berlin Prenzlauerberg school. This course, together with on-site residence accommodation, runs from 20th December 2015 until 2nd January 2016, 20 lessons over two weeks. Also, our school in Vienna, a truly magical place at Christmas time, will only close for the public holidays on 25th and 26th December and 1st and 6th January.  Contact us for further information on our special Christmas courses or dates for this year and next!
Dominik & Nadine