Regensburg: magnificent monuments and funky bars
Traditional and funky, historic and modern, quaint and vibrant – the city of Regensburg combines lots of seemingly contradictory characteristics. One of the loveliest historic towns in Bavaria and also a vibrant student city, Regensburg offers something for everyone. It's certainly an amazing location for an immersive German course! Work on your language skills in the morning, visit impressive historical sights in the afternoon, and finish your day with a glass of beer in a trendy local bar.
Want to know more about this unique city? Read on to learn what makes Regensburg such a special place …
A historic metropolis
With a long and rich history reaching back over 2,000 years, Regensburg is a tradition-steeped city where historical artefacts and ancient architecture hide behind every corner. During its heyday in the High Middle Ages, Regensburg was the biggest city in the empire, surpassing even megacities such as Cologne and Rome. Back then, merchants from every corner of the continent met here, bringing fine wine from France and Italy, coveted copper and tin from Bohemia, and rare furs from far-away Russia. Even exotic luxury goods such as Indian spices and silk from distant China reached this thriving city after long and arduous journeys.
These prosperous times when merchants, patricians, and bishops shaped Regensburg as a booming centre of power are still alive today in the imposing old town. Splendid merchants' mansions stand side-by-side with the comfortable homes of well-off medieval citizens. Wide and stately public squares recall the times when they were filled with the calls of market criers, the scent of exotic spices, and the echoing hooves of returning trade caravans. The magnificent, towering Gothic cathedral and the sturdy bridge across the Danube stand as proud testaments to the wealth and glory of Regensburg's ancient days.
Learn German in the beating heart of the city
It's in the heart of this stunning UNESCO World Heritage site that our German language school is located. Surrounded by history and only a stone's throw away from Regensburg's finest attractions, there could hardly a better place for your immersive German course! Since it's based in the middle of the old town, you'll be perfectly situated to explore all the famous sights and hidden corners of Regensburg.
Only 500 m from our school, for example, lies the city's oldest sight, the ancient Porto Praetoria. This 2,000-year-old gate takes you back to the origins of the city as a Roman military camp. Only a two-minute walk from here is the so-called Goliathhaus, the 'house of Goliath'. You'll realize the reason for this name as soon as you see this beautiful patrician's house: most of the facade features an astonishing, wonderfully detailed painting of the fight between David and Goliath. After walking another 150 m, you'll reach the 500-year-old Wurstkuchl restaurant, the long-standing heart of Regensburg's food scene. When you take a bite of a tasty sausage grilled over a wood-burning barbecue according to ancient recipes, you'll enjoy the true taste of historic Regensburg. In all of Germany, you'll hardly find a better place to enjoy a traditional bratwurst with sauerkraut and home-made mustard.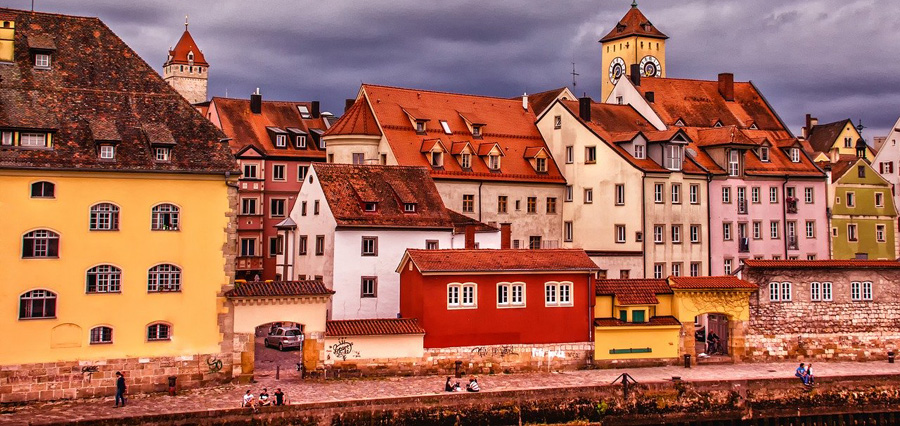 Since it's the old town, it's only for history buffs, right? Wrong! In fact, Regensburg's historic centre is, at the same time, the centre of its vibrant alternative scene and exciting student life. After all, every fifth inhabitant of Regensburg is a student, so its energetic social life shouldn't come as a surprise. There are funky bars hosting live concerts, bohemian cafés with modern art exhibitions, and hip clubs to dance the night away. If you want to do as the locals do, join the countless students for a beer on the Bismarckplatz or meet people for a barbecue on Jahninsel island. Is there a more fun way to learn German than by enjoying a lively chat with locals over a nice pint?
Regensburg's most impressive sights
One of the city's most diverse and fascinating buildings is St Emmeran Palace. A former monastery and now the main seat of the famous Princely House of Thurn and Taxis, St Emmeran combines monastic simplicity with aristocratic splendour. The latter is best experienced in the incredible ballroom; its mind-boggling extravagance will leave you staring at it with a gaping mouth. This hall is a dream of gold, marble, and velvet, with elaborate frescoes, splendid paintings, and chandeliers as big as a person.
As you head one floor down, baroque pomp is exchanged for the classiness of neo-renaissance style. Made of black, white, and ochre marble, the stairway evokes the dignity of the Roman Empire with its classical columns and ancient statues. The lush conservatory gives visitors the comforting illusion of dwelling in warmer climes, with its green palm trees arranged around Moorish-style arcades. The plainer monastery, in the meantime, sets a refreshing contrast to the extravagance of the palace. The subtle, unadorned elegance of its ancient Romanesque cloister and delicate Gothic chapel exudes a dignified silence and carries visitors off to the simplicity of monastic life. Walking through the different parts of St Emmeran is like a walk through history, exploring different eras as you admire one architectural style after another.
Just 10 km from Regensburg lies one of the most important national monuments in Germany. The white-stoned structure of Walhalla rises from the lush green hills on the banks of the Danube. When standing on the shore and looking up to this impressive monument dominating the landscape around it, you may feel reminded of an ancient Greek temple. That's not a coincidence; Walhalla's design is based on that of the famous acropolis. Built in the 19th century as a monument to the most outstanding German-speaking people, Walhalla houses 131 busts of famous writers, politicians, scientists, composers, and rulers. These dignified marble halls are home to great names such as Goethe and Schiller, Gutenberg and Luther, Bismarck and Kant. At the same time, you're most likely to stumble upon names you've never heard of, such as Peter Henlein (the inventor of the pocket watch) or Hans von Hallwyll (a successful 15th-century Swiss army officer). Don't worry if you're only familiar with every third or fourth name in these halls: most German visitors will feel the same.
Trips to Walhalla and St Emmeran Palace are just two examples of the exciting activities and excursions our German school in Regensburg organises for its students. To totally immerse yourself in the local culture, join a school trip to a typical Bavarian beer garden, view a performance in a German theatre, learn about traditional craftsmanship with a local violin maker, or follow a guided city tour to explore the beauty of Regensburg with your classmates. With diverse and fun activities to fill your afternoons and weekends, you're sure to have an amazing time, while your German skills will improve in leaps and bounds in an authentic environment.
Far Eastern vibes in Bavaria's countryside
In addition to classy historic sights, the area around Regensburg holds a few special surprises for visitors. Deep in the Bavarian countryside and just 15 minutes from Walhalla by car, you'll discover the fusion of a Buddhist stupa and a Hindu temple. Colourful Buddhist prayer flags fly over elaborate carvings of Hindu gods while a classical Chinese pavilion and a statue of the meditating Buddha sit on the shores of an idyllic Bavarian lake. In this unique location, the lines between religions, cultures, architectural styles, and regional plant life begin to blur. Here, seemingly incompatible elements blend into a masterpiece of astonishing beauty. If you have a soft spot for bizarre and singular places like this, the Nepal-Himalaya-Pavillion is a must-see!
Bavaria's best beer garden
Speaking of bizarre places, the lovely little town of Abensberg is home to what's certainly the world's most extraordinary beer garden. Actually, it isn't just a beer garden – it's a veritable piece of art. The whole place is dominated by the futuristic, surreal, and almost child-like Kuchlbauer tower. Designed by famous artist Friedensreich Hundertwasser, the whole structure is characterised by bright colours, distorted curves, and playful onion-domed towers. It looks like the mixture of a child's painting and a visionary's sketch. For an inimitable artwork like that, there are thousands of grand and lofty ideas it could be dedicated to. But we're in Bavaria after all, so perhaps the straight-forward choice of building the Kuchlbauer Turm as a tribute to local beer shouldn't come as too much of a surprise.
If you climb the tower, you'll find yourself surrounded by an impressive collection of 4,200 beer mugs, plus exhibitions about the history of wheat beer and the process of brewing it. Of course, you don't just have to stare at empty beer mugs. At the end of the guided tour, you'll get to enjoy a glass of Kuchlbauer beer in Bavaria's best beer garden. Prost!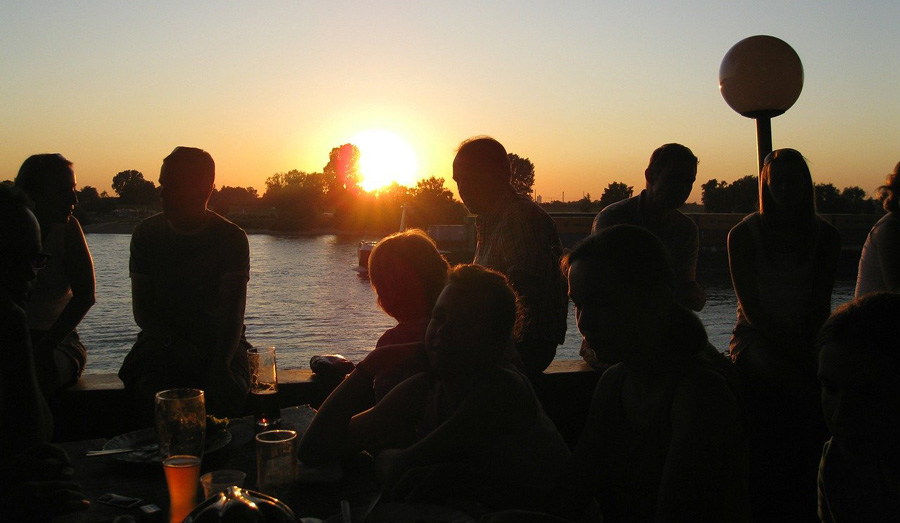 German courses in Regensburg
Regensburg and its surroundings are wonderfully diverse and just waiting to be explored. When you take a German course in Regensburg with us, you won't just improve your German skills – you'll travel like a local, dive deep into Bavarian culture, and make unforgettable memories while exploring this exciting city. So what are you waiting for? Contact us today to find out more about our exciting German courses in Regensburg!