Sorrento has EVERYTHING!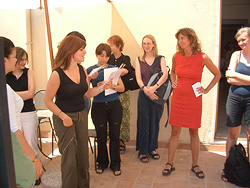 Summer is here! ..and where else can you find a place like this, with a relaxed but vibrant atmosphere at the same time with all kinds of great things to do, – swimming, sunbathing, thermal spas, walking along one of the best promenades in the world (It really IS – the views are spectacular!), shopping and eating excellent food and drinking fabulous wines…. gasp I think I need a full stop, but there is just SO much to do here…
But not only this, I am studying the Italian language in the best school in Sorrento. The school organises visits to ice cream factories as well as cookery courses to help us poor mortals knock up a decent pasta dish when we go back home..to mention just a few of the things on the activities programme… This is the ideal place to learn the language, but also all about the food and have a great time at the same time AND impress your friends with all that you have learnt once you get back to your own country… That is if you ever leave again!
So dragging ourselves away from Sorrento and my school is hard, but they also organise exciting trips to loads of surrounding places… A bit of an understatement if you ask me, there is Pompeii – (amazing), on our doorstep, the astounding islands of Capri, (you have to see it to believe it!) along with Ischia and Procida and one of the most famous Volcanoes in the world under our nose. Have you ever visited a volcano? FAB! There is a bit of a steep climb to the top but when you arrive you can see the whole of the region spread out in front of you like a sheet.
So if you feel like coming to the best school to study a language, take a cookery course, go to and/or visit all the above mentioned best in the world places – then this is the place to be!
Oh I forget to say, in my opinion the town also has the best ice cream in the world and I have to try some every day in order to confirm my theory… Which is not a bad way to spend your time huh?
Erika (Belgium)