Christmas in Sorrento
The beautiful Italian coastal town of Sorrento is rooted in the holiday tradition of Christmas. In every square, Christmas lights cover trees and figures around the town. Each street has hanging and glowing decorations, and storefronts are covered in strands of twinkling lights. Garlands abound throughout the city. The palm trees glow and sway in the wind. Stores and street vendors alike start selling Christmas trinkets and gifts.
Holiday Feeling
The gigantic tree in the middle of Piazza Tasso plays a song every (waking) hour at night, whilst a choreographed light show accompanies it. At night on the weekends, the streets are crowded with locals and tourists alike, with clowns and giant penguins, Santa and reindeers, chestnuts being roasted and music playing from all corners of the town.
The general atmosphere is jovial, everyone is smiling and carefree as the holidays approach. Piazza Lauro has street food stands on the weekends, and concerts are happening almost every night. After New Year's Day, the Teatro Tasso has free performances.
Black Friday shopping
Although Thanksgiving is an American holiday, Black Friday and the deals that go with it has spread across to Europe and Sorrento is no exception! Stores have 50% off for the first 50 people that come, and restaurants even have deals for the shopper on the move from store to store.
Special Events
The following link provides more information on special events during Christmas in Sorrento:
Winter Events
Film festival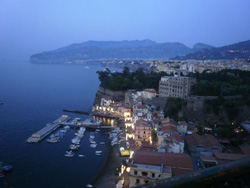 There also is a major film festival that happens from the 28th of November to the 1st of December. It is called the "Giornate Professionali di Cinema" and 2016 is the 39th year of the event. It takes place at the Hilton Sorrento Palace and the local cinema. Distribution companies, press agencies, cinema merchants, production companies, technical workers and associations are all present. This way it isn't just a showcase, but also a way for independent artists to interact with established professionals.
Italian in Sorrento
Our Italian language school in Sorrento provides language courses for students of all ages. The months leading up to Christmas and winter in general is an incredible time to visit Sorrento. However, since our school is open for most of the year they will be happy to welcome you at any time.