Why learn English in Malta?
Situated in the heart of the Mediterranean, Malta offers a unique combination of the East and the West. Many civilisations battled over this strategic small territory over the years, and all seem to have left their own visible footprints.
Originally a quiet fishing village, St Julian's has gone through major transformations: located along the seaside, St Julian's Bay is undoubtedly one of the most attractive tourist destinations of this intriguing country and home to one of our English language schools in Malta.
As Malta only gained its independence from Great Britain in 1974, English is still one of the two official languages of the country, along with the Maltese language which is a mix of Arabic, Italian, English and French. This is not the only asset of Malta; its southern location makes it an ideal place to enjoy a year-round sunny and mild weather.
Only a few hours away from most European countries, Malta is a very popular place among our students, where you can soak up the sun as you study! Tourism activities are mainly centered on the northern coast of the island, its most famous cities being St Julian's, Valetta and Sliema.
St Julian's offers everything a young person can dream of: charming scenery, vibrant nightlife all week long, excellent shops, golden beaches, and water-sports are just a sample of what is expecting you there.
If you are passionate about shopping, then you have come to the right place! "The Point" the biggest mall in Malta, is anchored by a Debenhams department store, a supermarket, as well as a mix of some 55 other shops including fashion, sportswear, household goods and books.
Marine-life lovers will definitely fall in love with Malta, one of the top diving spots in the world! The Maltese Islands offer a wide range of high-quality dive centres, where highly qualified instructors teach all levels: from beginner to instructor level courses. Contact one of the numerous dive centres of the islands before your trip, or wait to receive a recommendation from one of our schools in Malta, to help you explore the richness and diversity of the well-preserved aquatic life.
If you are more interested in historical heritage sightseeing, it is a safe bet to say that Malta will match your expectations. This small country has 3 sites inscribed on the UNESCO World Heritage list. These are the City of Valletta, the Megalithic Temples and the Hypogeum of Hal-Saflieni. The city of Valetta is a genuine open-air museum – roaming in its picturesque streets and seeing its colourful houses will make you feel you went back in time when the Order of Saint John of Jerusalem bravely defended the city in 1565 during the Great Siege. The very nature of this city built in the Middle Age is entirely preserved: behind massive fortifications, Valetta hides hundreds of monuments, such as the luxurious St John's cathedral, the Grandmaster's Palace, the Manoel theatre, and stunning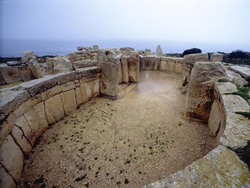 museums.
Head south to admire the eternal Megalithic Temples, nestled amidst wild and breathtaking landscapes. These prehistoric masterpieces are still a mystery for history and architecture experts: they flourished on the Maltese islands between 3600 and 2500 B.C. (about 1,000 years before the Egyptian pyramids of Giza were constructed) which make them amongst the oldest still-standing monuments in the world!
If you are looking for something more lively, going on a night out in Paceville, St Julian's bustling neighborhood, will definitely be memorable. It offers a buzzing nightlife throughout the year, with lots of bars and nightclubs where you will find a mix of locals and tourists from all around the globe.
The Islands have a sparkling calendar of cultural events to see, such as the Malta Arts Festival, the Valletta Baroque Festival, the Opera Festival, the Choir Festival and the International Jazz Festival held in July. If you come to the islands by the beginning of the summer, you better not miss one of the most attended free open-air concerts in Europe: Isle of MTV, held in Il-Fosos Square, Malta. The music extravaganza has seen global superstars such as Snoop Dogg, Lady Gaga, David Guetta, The Black Eyed Peas and Scissor Sisters perform in front of an audience of more than 50,000 people.
The day after attending one of these numerous events, you will probably want to enjoy a Sunday-morning stroll in Marsaxlokk (pronounced Marchachlok) in the south of the country. This charming and typical fishing village has still conserved certain tranquility, and hosts a market renowned for displaying delicious (and typically cheap) Mediterranean fish and seafood, freshly taken out of fishing nets. The market also sells locally produced honey, fruit jams, wine as well as vegetables, souvenirs and clothes. You will also have the chance to enjoy a relaxing view of the port while having lunch in one the lovely seafood restaurants scattered in the scenic bay of Marsaxlokk.
Few tourists are aware that Malta is not only one island, but an archipelago composed of 3 islands: Malta, Gozo and Comino. Gozo and Comino are smaller than the main island, and offer a very different atmosphere; ideal for a break from the animated island of Malta. Start your journey by getting on board of a ferry and drop off at Gozo, 25 minutes later. Once on site, 2 reasonable options are recommended in order to visit Gozo's treasures. You can opt for a classic but convenient city sightseeing bus where you will have the opportunity to hop on and hop off as much as you like at any of the bus stops on the route and see all the best sights and attractions that the island has to offer. The most adventurous will choose to visit the island by bike available for rent, and confront alternatively uphill and downhill roads offering an incomparable way of discovering Gozo while enjoying mild temperatures all year round.
In any case, in Gozo you will have the opportunity to see breathtaking scenery, beaches, rocky landscapes, the Azure Window (a remarkable natural limestone arch that was formed millions of years ago) and many cliffs that tourists and locals alike appreciate – some even go diving off them! Gozo doesn't only display stunning landscapes, but also some fantastic man-made monuments. There is a high concentration of churches (46 for 31,000 inhabitants) and the oldest free standing temples in the world.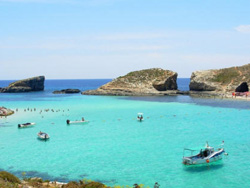 Finally, Comino, the smallest isolated island of the archipelago is an excellent place to spend a day, where you will have the occasion to swim in the transparent, cyan waters of the Blue Lagoon.
 Simon