7 reasons to learn Spanish in Ibiza
The Spanish island of Ibiza is one of the beautiful Balearic Islands in the Mediterranean. People throughout the world mostly think about its vibrant nightlife. However, this magnificent island offers so much more!
In Ibiza you will find everything from historic buildings and excellent beaches to pure nature, friendly people and mouthwatering delicacies. What's more, it is the perfect place to work on your Spanish language skills!
In this blog post we would like to show that Ibiza is more than just a party island. Here are seven reasons why this stunning island is the ideal place for your next Spanish course.
Wonderful weather all year round
Thanks to the pleasant Mediterranean climate you can enjoy beautiful weather all year round. The average temperature of Ibiza is 18°C and the sun shines on 330 days of the year! This ideal weather allows for all kinds of outdoor activities.
During the summer months spend your time at one of the lovely beaches where you can swim, surf, dive or just top up your suntan.
A popular activity in winter are walking tours. However, you can also go on a walking tour and discover the island's fascinating nature in summer, of course. Ibiza offers plenty of things to do and there really is something for everyone.
A historic and unique charm
Founded in 654 BC by Phoenician settlers Ibiza has an incredibly long history, which is visible throughout the whole island.
Particularly Dalt Vila, the old town of Ibiza town, gives you an insight into the island's historic charm. It is located on a hill, so you can enjoy a nice walk up to this stunning part of the town. Ibiza's fascinating cathedral will not fail to impress you once reaching the top of the hill. It is a great example of Gothic architecture and offers breathtaking views of the sea.
Another attraction you should not miss when visiting Dalt Vila are the town walls, which were built during the renaissance. When walking along these massive walls you will find seven bastions in total. You can even experience the very special atmosphere in Dalt Vila by simply strolling around the enchanting cobbled alleys. It is no surprise that Ibiza town, with its astonishing Dalt Vila, is a UNESCO World Heritage Site!
Close to the town Santa Eulària you will find a 52-metre-high hill called Puig de Missa. On this summit you will find a prominent fortress church. During the 16th century this beautifully whitewashed church was supposed to protect the island's inhabitants from pirate attacks. Today, you can visit the inside of the church with its impressive altar as well as the small adjoining garden.
Back in Ibiza town you will find Necròpolis del Puig des Molins, the largest such necropolis in the world. The Phoenicians built this fascinating ancient burial site in the 7th century BC and it includes up to 4,000 graves. You many also want to visit the Monographic Museum of Puig des Molins, which has many interesting burial artifacts on display.
Despite the remarkable historic value in Ibiza you can still experience a completely modern lifestyle. This perfect combination ensures you will enjoy your stay to the full!
Wild nature
Ibiza is not only full of history. This wonderful island is also a natural paradise. Apart from its lovely pine forests, fragrant lavender and crystal clear waters Ibiza is also home to several natural parks.
Two kilometres off Ibiza's southwest coast you will find the small rock island Es Vedrà. This nature reserve is uninhabited by humans. However, it is home to several animals, such as goats, lizards and falcons. What's more, from Ibiza's main island you will have a breathtaking view of Es Vedrà, especially in the evening when the sun sets behind the limestone rocks!
One of the island's most beautiful natural areas is Es Amunts which is located in the north. This is a mountainous area of 15,000 hectares. There you will have the chance to immerse yourself in Ibiza's wild nature. Stroll around green forests and walk up hills and cliffs. With its rich fauna Es Amunts is also the ideal place for animal lovers. This unspoilt part of Ibiza is a protective habitat for many species that became extinct in other parts of the island.
Another absolute must-see are the Caves of Can Marça, which are located in the north east of Ibiza. These incredible caves date back 100,000 years! You can take a guided tour of the stunning cave systems and marvel at impressive stalactites and stalagmites, as well as spectacular fossils.
Colourful hippy markets
A very important part of Ibiza's culture are the numerous hippy markets. These colourful and bustling markets are one of Ibiza's major attractions. A day at one of these extraordinary hippy markets will give you a unique experience.
The oldest and biggest hippy market is Punta Arabí (hippymarket.info). On every Wednesday between April and October over 500 vendors offer a wide variety of arts and craft here. Curious and culturally interested visitors can also enjoy music and other live performances at Punta Arabí. If you are lucky you can even enjoy one of the market's art exhibitions which take place occasionally. There are also various restaurants and bars on site, offering you delicious dishes and refreshing drinks. You will even have the chance to try the market's own craft beer!
Another popular hippy market is Las Dalias (lasdalias.es). The market is held every Saturday all year round and offers you an incredible atmosphere. You will be surrounded by bright colours, friendly people and lots of interesting products. At 200 market stalls in total you will find colourful fabrics, musical instruments, decorative items, shoes and many more handmade and unique objects. If you are brave enough you can even go to one of the fortune tellers to see what your future may hold.
Every Monday and Tuesday from June to September as well as every Sunday in August you will find an exciting night market on the same site. Even though there are less stalls at the Night Market of Las Dalias the atmosphere is just as beautiful as at the hippy market. Amazing evening shows are put on to entertain the visitors, including music, dance and artistic performances. It is also a great place to enjoy plenty of delicious food or have a nice cocktail at one of the market's bars.
Excellent regional cuisine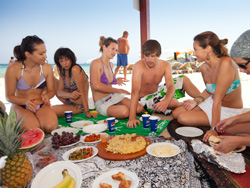 Ibiza has absolutely delicious local specialities to offer. If you want to indulge yourself in an lovely meal then Ibiza is the ideal place for you. From main meals to desserts and drinks, in Ibiza you will certainly have a great culinary experience!
A typical main meal is Arroz de Matanzas (Arròs de Matança in Catalan). This dish consists of rice, meat, saffron and mushrooms. To prepare the meal you cook all ingredients in a special broth. However, there are many different variations of this speciality and many families have their very own recipe.
Another locals' favourite is Sofrit pagès. This traditional meal contains Ibiza's two most famous sausages Botifarra and Sobrassada. These are mixed with chicken, lamb, potatoes, vegetables, garlic and a unique combination of spices. If you want to experience life like a local you should definitely try this dish.
A popular local dessert is Flaó. It is often compared to cheese cake and was originally eaten on Easter. However, today it can be eaten all year round. Everyone with a sweet tooth will love this absolute delight. This traditional pastry is usually filled with cottage cheese, ground almonds and honey. A slight hint of peppermint gives this delicacy a very special touch.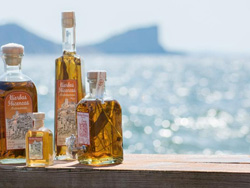 If you wish to try as many different specialities as possible you should also try Greixonera. This is another dessert the the locals love. Made with leftover pastries, milk and eggs, it has a delicious cinnamon flavour and the sugar on top is usually caramelised.
Do you also want to try a traditional drink? Then you should opt for the well-known Hierbas ibicencas or Frígola. If you like anise you will love Hierbas ibicencas. This liquor is made with various herbs, anise and often also contains lemon and orange flavourings.
Frígola is a sweet orange-coloured liquor which is traditionally made from thyme. Hierbas ibicencas as well as Frígola are usually drunk by the locals as a digestive. Frígola goes very well with any kind of dessert!
Amazing beaches
Ibiza will offer you an incredible variety of beaches. You will find 56 beaches in a radius of only 15 kilometres. Ibiza's beaches have something for everyone: quiet and romantic spots, beach bars, water sports activities, turquoise and crystal clear waters, white sand and much more!
The island is home to so many beautiful beaches that we cannot name all of them in this blog post. However, we would like to introduce you to some which we consider especially worth visiting.
If you want to have the best view of the stunning Es Vedrà then Cala D'Hort is the perfect beach for you. From there you will have a marvellous view of the impressive rock island. What's more, the beach itself with its golden sand is a true oasis of peace!
If you are a water sports enthusiast you should go to Las Salinas. Here you can enjoy pedalo rides, sailing, stand-up paddling and kayaking. This is also the ideal place if you are looking for a nice drink at a beach bar.
If you prefer a rather peaceful environment you will surely enjoy a day at Pou des Lleó. This is a small beach which is very popular amongst the locals. It is surrounded by lovely fisherman's houses and the wonderful environment allows for enjoyable walks. As it is largely unspoilt by tourism it is the perfect place to experience Ibiza's real beach lifestyle.
Our school in Ibiza town
Our Spanish language school in Ibiza is located in Ibiza town, just a short walk from the breathtaking Dalt Vila and the beautiful marina. It is therefore the perfect base to discover Ibiza's historic heritage.
The school is accredited by Instituto Cervantes and is a member of IALC. This ensures you will received a very high standard of tuition. All lessons are taught in Spanish by fully qualified native speakers. All teachers provide students with a friendly, family environment,  ensuring that everyone in the group gets the most out of the lessons. You can also choose private Spanish lessons for a more intensive one-to-one programme!
Our Spanish courses are offered at all language levels. We will certainly be able to arrange a course that meets your requirements! The average age at our school is between 25 and 50, depending on the time of year. However, our Spanish school, as well as the island itself, is an ideal place for all ages.
We hope that these reasons will inspire you to join us on a Spanish course in astonishing Ibiza. This varied island really has so many things to offer and you will be impressed by its incredible natural beauty. What's more, Ibiza is easily reachable from every major European city. So what are you waiting for?
Sabrina