I'll really miss Valencia!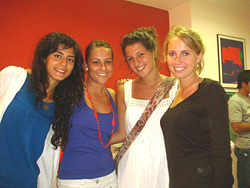 My stay in Valencia has been a fantastic experience at all levels. For me, Valencia has been the perfect city in which to combine studying, cultural enrichment and a GREAT quality of life!
The climate is agreeable all year, helping you feel good. Also (perhaps because of the climate) the Valencians are very pleasant, happy and dynamic.
I have really enjoyed taking advantage of the offerings of such a big city (the culture, spare time and going out) and the other aspects of Valencia like the beach (enormous, with kilometres of soft golden sand!) and the nature. It has truly been an incredible experience for me. The 5km of the old river have been transformed into a garden in which you can walk, study, skate or practice sports – everything is possible. What impressed me most of all is that all this can be enjoyed in a coastal location, with a wonderful beach and a short time after the ski season has finished!!!
The rich culture is amazing with the various civilizations that have passed through Valencia, each leaving their mark. One minute you can be visiting monuments from the times of the Moors, hundreds of years ago, and the next be right up to date walking through the huge City of Arts and Sciences.
Valencia is a city that is open-minded and cosmopolitan with amazing nightlife. I am really going to miss the way in which the Valencians enjoy themselves. It can't be explained – only lived!
And I mustn't forget the reason why I cam here – to learn Spanish; I have been able to learn so much Spanish since I've been here – the teachers at the school have been GREAT, and I've really enjoyed all the cultural activities and visits that the school has organized.
I'm really going to miss Valencia!
Myriam (French)