Sun! Sea! Sand! &…..School!
Ok, so imagine attending a school in the heart of a beautiful historic city… that's also home to 'space age' architectural design…and two magnificent beaches. It almost seems too good to be true, but hear it from me – in Valencia you have the best of everything!
I think that being a student in Valencia is perfect, as there is a really young feel to this city – full of life, laughter and at present the pride and thrills of being host to the 32nd Americas Cup.
I also think that studying in Valencia would appeal to anybody and everybody, as Valencia seems to break all the rules as it manages to perfectly cater to a whole range of different tastes.
I loved the peace and tranquillity of the 'old town' – a 'mezcla' of Gothic, Moorish and Roman styles, full of ancient monuments and relics just waiting to be photographed. This is a perfect place to relax, watch the world go by and enjoy a local delight at any of the outdoor restaurants with your fellow students.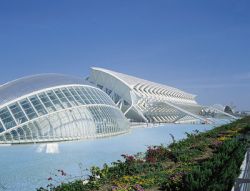 I also loved the ultra modern Ciudad de las Artes y Ciencias – a truly inspiring collection of some of Europe's most striking and thought provoking architectural design. Oh and believe me, you don't have to be a connoisseur of the arts and sciences to appreciate it (I'm not!) – it is truly a breathtaking spectacle that is not to be missed.
The school is centrally located in of the city, just 5 minutes from 'la plaza major' and 15 minutes from the beach – which I found to be a great place to relax after a morning or afternoon of Spanish classes – although you are bound to get caught up in the thrills and excitement of the sailing races!
The school plans a range of excursions for its students and I would thoroughly recommend the 'Inter-cambio' evenings. These evenings are always very popular and the atmosphere is very relaxed and friendly. They are a perfect way to practice and improve your language skills by giving you the opportunity to engage in conversation with native Spanish speakers (usually over a glass of sangria!) in a relaxed and social environment. Oh and did I mention that this was free? Ok, so you have to pay for your drinks, but what a small price to pay for the chance to home your language skills, meet like-minded people and make friends.

Valencia – elegant, vibrant and exciting…three words that don't even come close to describing it. You WON'T be disappointed!
Jamie