Booking my English course in Liverpool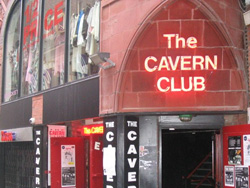 Read my first post here: Go learn English in Liverpool!
My English course in Liverpool is booked and I start next week! I chose the Intensive course (20 lessons per week) and accommodation in the Student Residence, which is close to the school. The famous and oh-so-popular Cavern Club is also in close proximity of the language school. What more could you want?
During the booking process I was helping Apple Languages check out their new online booking information system. The system, called 'my.applelanguages', will hopefully be rolled out to all students soon.
I really liked using it! It's an online portal where you can check the details of your booking, update your personal information and complete your payment.
If you choose to book a course you can also see how this works!
Preparing for my trip
The school staff in Liverpool confirmed everything very quickly and seem lovely and very efficient. They sent a document with details about the accommodation (which looks ideal!). It included pictures and a bunch of useful information about the location and on-site facilities.
I was also sent forms from the school to complete in order to facilitate the registration process on arrival. The forms asked general information about myself, my goals on the English course and finally a test to asses my current level on English.
I was a little nervous about the assessment test, but I needn't have been! It consisted of 50 multiple choice questions, which the school will use to assess my level of English.
There was also an open question in which a short description of one's skills, weaknesses and expectations were required. I expect the school will use this to tailor the programme to my individual requirements.
My current level of English
I was sent the results shortly after completion of the test. The results mentioned that I am at a B1-B2 level, which matches the level that I was placed in for Erasmus OLS (Online Linguistic Support) and many other English placement tests that I have taken in the past. Well done and so far so good then!
I also received a comprehensive 'Welcome pack' which includes details about the school, how to get there, an insight into the activity programme as well as a list of important sights to see.
The pack I received also described a typical day at the school. The last pages are practical information about the school's policy, absences, the final English language certificate (which I will receive at the end of my course). There was also mention of the health and safety measures at the school.
Looking forward to my English course in Liverpool!
What can I say? Thanks to all this support and all this information, I am even more looking forward to my Liverpool trip! It's great to know what expect from the school and plan out the places I'll visit. I am happy to be able to make the most of my sightseeing knowing that there is someone that is really taking care of you.
I have already created a short list of things to do during my stay: visiting the museums (most of them are free!), going on a Beatles tour and I have obviously taken note of all the rock music events at Cavern Club. I couldn't possibly miss them!
Read about my first day in Liverpool here: Day 1
– Fiammetta