Christmas around the world
Christmas is just around the corner and people from all over the world have been impatiently waiting for this special time of year. This includes ourselves here at Apple Language Courses!
However, when thinking about Christmas, people in different countries have different things on their minds. Although celebrating the same event, Christmas traditions around the world can vary quite a lot. What they do have in common is how enjoyable and special this time of year can be.
This article will provide you with fascinating facts about Christmas traditions around the world, including festive food and decorations.
Still looking for a delicious Christmas recipe?
Christmas is a time for family, friends, festive joy and FOOD!
Do you want to try something new this Christmas?
Would you like some inspiration for some tasty treats?
Don't worry, we can help!
Try one of our traditional German Christmas recipes for delicious Christmas biscuits and Stollen cake!
Christmas celebrations around the world
Read our previous blog posts about Christmas traditions in Spain, Germany, England, Portugal, the Netherlands, Italy and France to learn more about Christmas celebrations across Europe! Read on for more!
Christmas in Greece
"Kala Christougenna!"
A Greek tradition on Christmas Eve is for children to walk around the streets singing kalanda (carols) while playing instruments, such as drums and triangles. As a reward for their singing they receive money, sweets, nuts or dried figs from the adults.
Aside from Christmas trees there is another popular Greek Christmas decoration. A sprig of basil is attached to a wooden cross which is then tied to a flat wooden bowl. Once a day someone dips the cross into holy water and sprinkles all parts of the house with it. Greek people believe that this keeps the kallikantzaroi (bad spirits) away, which may appear between Christmas and the 6th of January.
A traditional Greek Christmas dinner consists of roast lamb or pork, a spinach and cheese pie and vegetables. On Christmas Day people normally eat Christopsomo (Christ's bread) which is also used as a table decoration. This is a sweet bread which contains cinnamon, cloves and orange and has a cross on top.
The presents are said to be brought by Aghios Vassilis (St. Basil). As this day is dedicated to the saint, children receive their presents on 1st January.
Christmas in Argentina
"Feliz Navidad!"
In Argentina the main Christmas celebrations take place on Christmas Eve. On that day most Argentine families go to church and have their Christmas meal in the late evening. As the weather is warm on Christmas the Christmas dinner is often a barbecue! At midnight, when people open their presents, there are usually lots of beautiful firework displays.
The Argentineans decorate their houses with wonderfully beautiful and many-coloured floral wreaths. Most families also have a Christmas tree, but in Argentina this can be any kind of tree and doesn't need to be a fir. It is very common to decorate the tree with white cotton balls, simulating snow.
The Argentine Christmas dinner often consists of roast turkey, pork or even goat, which is served with stuffed tomatoes and salad. A popular Christmas dessert is pan dulce, a cylindrical cake with candied and dried fruits.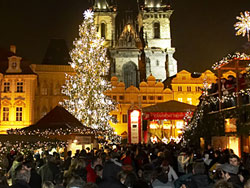 Christmas in the Czech Republic
"Veselé Vánoce!"
The most important day during the Christmas period is Christmas Eve.
Some people don't eat anything all day until the Christmas dinner is finally served. It is said that this gives them the chance to see the golden pig, which is supposed to bring good luck.
Czech people will then have their Christmas dinner after sunset, with fish soup, carp and potato salad. Often right after dinner people open their presents, which are brought by Ježíšek (Little Jesus).
There is also a funny superstition for non-married people on Christmas day. It is said that if you throw a show over your shoulder and the toe of the shoe points towards the door then you will be married soon!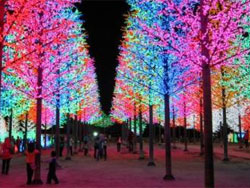 Christmas in Japan
"Meri Kurisumasu!"
The Christmas celebrations in Japan are very different from those in predominantly Christian countries. Christmas is not a public holiday in Japan and people enjoy other different activities during this time of the year.
Christmas Eve is celebrated as a romantic day on which couples go out for dinner and exchange presents, similar to Valentine's Day.
It is very common to eat fried chicken (KFC to be precise) on Christmas Eve followed by a typical Japanese Christmas cake: a sponge cake with strawberries and whipped cream.
Family celebrations, which are common in most European countries on Christmas, also exist in Japan but they take place between 31st December and 4th January to celebrate the New Year.
Christmas in Brazil
"Feliz Natal!"
In Brazil Santa Claus is called Papai Noel or Bom Velhinho (good old man). The custom of amigo secreto (secret friend) is also very common. This can be compared to Secret Santa. During December people exchange small presents and write a fake name (apelido) on them. On Christmas Day people will tell each other who their secret friend was.
On Christmas Eve most people have their Christmas dinner at around 10 pm. This often includes pork, turkey, ham, vegetables and fruit. Rice with raisins and farofa (seasoned and toasted cassava flour) are often served as a side dish. At midnight people usually toast and wish each other a Happy Christmas, followed by the exchange of presents.
As it is very hot on Christmas many Brazilians also love to go to the beach during this special time of the year!
Christmas in Malta
"Il-Milied it-Tajjeb"
In Malta it is a very important tradition to put up Christmas cribs. You can find them in all churches and also in most private homes. There is even a group of people who call themselves 'friends of the crib'. They are dedicated to keeping this tradition up and every year during the Christmas period they organise an exhibition of many different impressive cribs. The Maltese also enjoy walking around on Christmas Eve to marvel at all wonderful Christmas cribs you can find throughout the streets of Malta.
Many people also go to the famous Manoel Theatre to see the entertaining annual pantomime together with their families. Another popular activity on Christmas Eve is attending a traditional Christmas procession. People walk through the streets carrying a figure of Baby Jesus and singing Christmas carols.
When it comes to Christmas food most people in Malta have taken on British traditions. However, originally the fattest capon was roasted together with potatoes and vegetables. The dessert was Qaghqa tal-Ghasel (a treacle ring) followed by Imbuljuta tal-Qastan (a soup with chestnuts and cocoa).
Discover Christmas with Apple Language Courses
To give you the opportunity to experience unique Christmas celebrations around the globe some of our German, French, Spanish and English schools remain open over the Christmas period. At some of Portuguese school in Lisbon and some Italian schools we even offer special Christmas courses. These specialist programmes include lots of amazing Christmas-themed activities.
Take a language course with Apple Language Courses during this wonderful time of the year. Immerse yourself in different Christmas traditions whilst enhancing your foreign language skills!
We wish you a very Happy Christmas!
The Team at Apple Language Courses