Celebrating World Book Day
The world's top ten places for book lovers 📚
On 5th March 2020, the UK and Ireland celebrated the 24th World Book Day. This day is also celebrated on 23rd April by more than a hundred countries worldwide. The annual charity event is a UNESCO initiative aiming to promote reading among young people. Many schools, therefore, organise book-themed activities and trips to local libraries where children have the chance to dress as their favourite book character.
Fun fact: 23rd April was chosen as the date for the worldwide World Book Day because it's the anniversary of the deaths of William Shakespeare and Miguel de Cervantes.
If you're a book worm, you might want to visit some of the following libraries and bookstores around the world:
Trinity College Library
Dublin, Ireland
Trinity College Library in Dublin is Ireland's biggest library and contains a whopping 7,000,000 volumes. Even if you're an avid reader who can devour 50 books a year, it would still take you some 140,000 years to read all the books here! Of course, you don't need to spend quite that long enjoying this temple of knowledge; just check out its finest masterpieces such as the Book of Kells, an ancient manuscript written 1,200 years ago.
Strahov Library
Prague, Czech Republic
Although Prague's Strahov Library is not nearly as huge as the Trinity College Library, it still boasts a collection of 200,000 books. It's certainly worth a visit thanks to its unique Baroque atmosphere, created by the library's opulent frescoes and intricately carved vaults. Since it's located in a monastery dating back as far as 1143, a visit to the Strahov Library will transport you back to a time when books were the only source of knowledge.
Lello Bookstore
Porto, Portugal
Lello Bookstore is among the oldest bookstores in Portugal, and is widely regarded as one of the world's top book shops. J. K. Rowling herself was a regular customer here when she taught English in Porto. It's rumoured that this building was the inspiration for many locations in the Harry Potter books!
Libreria Acqua Alta
Venice, Italy
Designed to protect its beloved books from the city's frequent floods, this bookshop stores its volumes in bathtubs and gondolas. Sounds like quite a remarkable sight, doesn't it? But this isn't the only special use for books this store has come up with. Reusing damaged volumes and outdated editions, the entrance to Libreria Acqua Alta is a flight of stairs made entirely out of books.
Book and Bed
Kyoto, Japan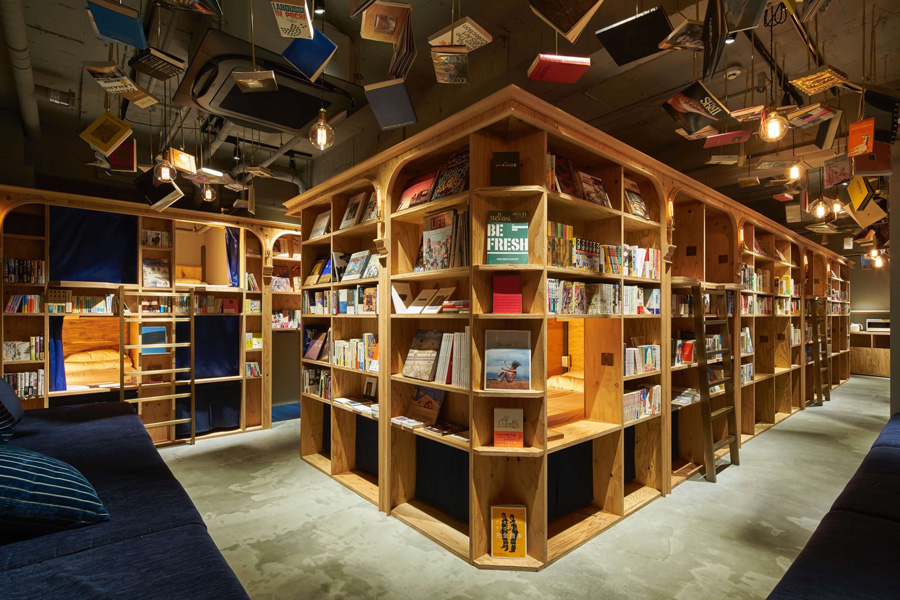 Ever been unable to break away from a good book in the evening? When staying at the Book and Bed hostel in Kyoto, you won't have to worry about this. You can just grab a good read and take it to bed with you. When looking for the next book in the morning, you won't even have to get out bed, since you'll literally be sleeping inside the book shelves! Imagine what kind of dreams you'll have in this fantasy fairyland surrounded by thousands of books full of imagination and learning …
UNAM Central Library
Mexico City, Mexico
UNAM Central Library isn't only remarkable for its large collection of books (one of the most extensive in all Mexico!). It's also famed for its unique architecture. Covered in countless colourful tiles, the entire exterior of the library is one large mural recounting centuries of Mexican history. This mesmerising artwork is one of the largest murals in the world and merges mystery and history into one. It stands as a testament to the magnificence of Mexican culture.
The Last Bookstore
Los Angeles, USA
If you feel that books are priceless treasures, The Last Bookstore is the place to go. Set up in a former bank, this bookshop keeps many of its books safe inside vaults with doors as thick as an arm that look as if they could stop a cannonball. The most infamous one is probably the horror vault. You'd better hope the thick metal door doesn't close while you're in there! Otherwise, you find yourself locked in one room with hundreds of books, all with the sole purpose of sending shivers down your spine and making you unable to fall asleep at night …
If you aren't into horror books, don't worry: this bookstore has more to offer than creepy vaults. Scattered through the entire shop are original artworks made exclusively from books. With pages of unusable volumes decorating the ceiling like paper streamers and even a tunnel built entirely of books, every book lover is sure to enjoy a visit to this beautifully decorated store.
El Ateneo Grand Splendid
Buenos Aires, Argentina
El Ateneo Grand Splendid in Buenos Aires will certainly make you feel the grandness of literature. Built inside a former theatre, complete with elegant loges and heavy red curtains, this shop provides a stage for both Argentinian and international books. In this majestic theatre, where tango legends once enchanted countless spectators, you can now browse for the perfect read while enjoying the building's sublime atmosphere.
Word on the Water
London, England
Ever been to a bookshop floating on the water? In London, you can do just that! This tiny 1920s Dutch barge is home to Word on the Water, the capital's only bookstore that isn't set up on dry land. On this snug little boat, you can grab a good book and relax on a comfortable sofa. In the winter months, there's a wood stove radiating pleasant warmth, making your visit even cosier. You can even make friend's with the lovely dog living on the barge! What's more, if you just can't get enough of books, you can walk a few metres down the road and visit the British Library.
Bodleian Library
Oxford, England
If you'd like to visit one of the world's most imposing and venerated libraries, the Bodleian Library is the place to go. With roots reaching back as far as the 14th century, it's one of the oldest libraries in Europe and has long supported one of the world's most outstanding educational facilities: Oxford University. Did you know that no fewer than five kings, 26 prime ministers, and 40 Nobel prize winners have studied in the Bodleian Library's dignified halls? You can't help but feel the grandness of scholarship and learning in this place. To protect the invaluable knowledge collected here over hundreds of years, every visitor has to swear the Bodleian Oath and promise to treat all the library's volumes with the utmost care.
Language courses all over the world
Looking for the perfect way to enjoy these book lover's paradises while diving into the language and culture of the countries they're found in? Apple Languages offers immersive language programmes in all of the great cities mentioned above, and great accommodation options to choose from during your stay.
After improving your English, Czech, Spanish, Portuguese, Italian, or Japanese skills, you'll be able to enjoy the countless books found in these amazing places even more!